Las Palmas - Fruid & Vegetables

Nano's blog.
Nigel Anderson
Fri 24 Nov 2006 18:46
Date: 24-11-06     Time: 18:00      Position: 28:07.73N  015:25.58W   Name: Las Palmas 


Vi stod opp litt tidligere enn vanlig i dag for å komme til markedet for frukt og grønt i god tid. Noen av grønnsakshandlerne hadde en tjeneste med kjøring av varene til båten, og vi benyttet oss av en av dem. Det så ut som en utrolig mengde mat i handlevognen, men regningen kom ikke til mer enn 59 euro. Vi drog for å hente kjøttet vi hadde bestilt for et par dager siden fra El Corte Inglés, og etter en del venting fikk vi betalt for varene, kjøpt noen ekstra småting vi muligens hadde glemt på tidligere handlerunder før vi tok en taksi tilbake til båten. Kjøttet vikk vi såvidt plass til i den lille frysedelen av kjøleskapet og vi er veldig fornøyd med plassen son gjenstår i kjøleskapet til luksusvarer for de første dagene som yoghurt og helt fersk kjøtt og ost. Etter en liten seanse med "Hvorfor Ikke" og PC-problemer, kunne vi nyte en god lunsj på dekk før vi begynte vasking og stabling av varene. Mer vann kom også som vi greide å finne plass til. Dagens bilde - frukt og grønt skal ombord.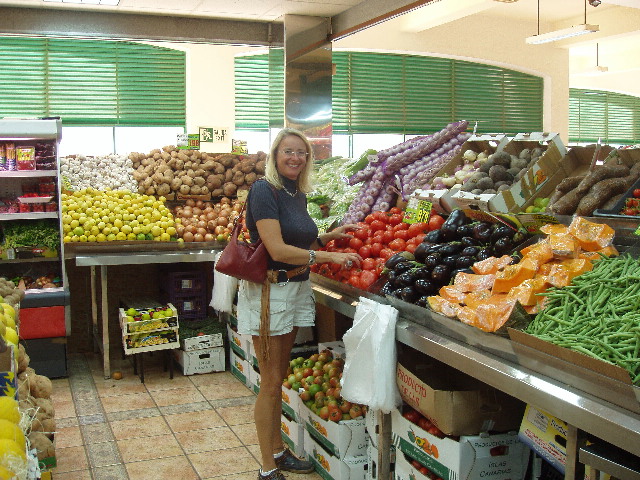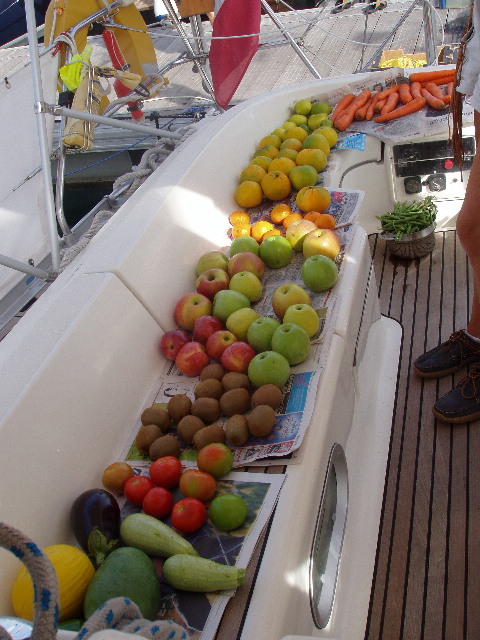 English version
We got up a little earlier than usual today in order to get a good start at the fruit and vegetable market. Some of the stall holders offered to deliver free to the boat, so we utilized this offer and bought all our fruit and veg. from the one dealer. Unencumbered by the shopping we could go and pay for the frozen meat we had ordered on Wednesday. and we took it with us by taxi back to the boat where we actually managed to get it all into the little freezer compartment of the fridge. This has left us with plenty of fridge room for some fresh meats and cheeses, yoghurts etc which will make the first few days that bit more pleasant. I spent an hour onboard another Norwegian boat working with the PC communications before we had a good lunch on deck with a bottle of white wine which we had taken out of the fridge and not found a new home for. The fruit arrived, giving us a good task for the afternoon washing it all, drying off the worst of the water before spreading it out on newspaper to dry completely. We also took aboard more bottled water which we managed to find room for somehow. Today's pictures are of the provisioning process.
---