Near Muros - Muros

Nano's blog.
Nigel Anderson
Mon 28 Aug 2006 18:53
Date: 28-08-06     Time: 18:00 UTC      Position: 42:46.77N  009:03.51W   Name: Muros 


Vi lå fint alene i bukta vår, men våknet til overskyet vær og vindstille. Siden vi ikke hadde noen spesielle planer om å haste avgårde, gikk formiddagen til frokost, kaffepause, lesing for Rønnaug, og sliping av kniver og vedlikehold på verktøyene mine - tenger spesielt blir litt trege ombord i en båt, så det meste som kunne smøres fikk litt olje eller WD-40 idag, og nå er verktøykassa i topp form. Med litt tilbakeblikk på den siste jobben min husker jeg forskjellige "prosesser" der konsulenter var inn i bildet og man skulle effektivisere vedlikeholdsavdelingen. Ved å snu alle rådene som konsulentene på hodet har jeg funnet min måte å drive vedlikehold ombord. Eierskap til utstyret, involvering, og ikke minst ha gode smørerutinene som heller er i overkant av det som er nødvendig er nøkkelen til et problemfritt båtliv.
Været ble bedre etterhvert, og siden minimumstemperaturen på 19 grader var nådd, badet vi i sjøen etter lunsj. Badestranda hadde vi til oss selv bortsett et par mann fra kommunen som kjørte over med en traktor og maskin som ligner en løypeprepereringsmaskin fra vinterfjellet. Søppel og sjøgress blir skilt fra sanden, som legges på plass igjen. Flott resultat.
Siden vi hadde lyst å besøke Muros, og det kom en fin men lett bris, seilte vi de tre sjømil fra bukta vår til byen der vi ankret opp i lag med 6-8 båter utenfor havnene. På dette tidspunktet var det blitt grådig varmt så ve ventet til etter fem med å gå i land. Selve byen var alleles nydelig med mange trange bakgater, rikelig med drikke- og spisesteder samt det man trenger av butikker. Etter en spasertur var vi innom super'n for høyst nødvendige ting - stort sett brus, jus, brød og vin. Ikveld skal vi spise ute på byen for en forandring.
Dagens bilder: Nano ligger for anker under skyene på formiddagen; på ettermiddagen utenfor Muros under skyfri himmel; og underst er nydelig utskjæringsarbeid i kirken.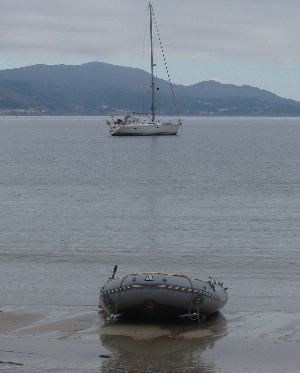 Morning / formiddag
Ettermiddag / Afternoon
Confessional / skriftekabinett
English version
We lay well in out bay last night, the wind dying away in the late evening. We woke to a cloudy sky and no wind. As we were in no hurry, we lazed the morning away with breakfast, a coffee break, Rønnaug read while Nigel sharpened some knives and oiled his tools - which tend to get a little rusty and stiff in the salty environment onboard. Important business this - never cut corners on your maintenance and don't forget to maintain the tools needed for maintenance!
The weather improved as the morning wore on; as the sea temperature was up to 19 degrees again - our minimum limit - we had a nice swim after lunch. The beach was deserted, though two men from the local council turned up with a tractor and machine rather like a piste-basher from the ski slopes. This separated any rubbish or seaweed from the sand before laying it back in place again.
We wanted to see Muros, so weighed anchor and set sail for a delightful sail in a gentle breeze on flat sea the three miles to the town harbour, where we anchored with 6-8 other boats. By this time it was too hot to contemplate wandering around the siesta-closed streets, so we waited until five before venturing ashore for a walk around. Delightful town - richer and warmer than further north with delightful architecture and narrow streets behind the main front. We visited the old church which was cool and inviting, the lowest photo is the intricate carvings of the confessional box. After a shopping trip at the supermercado we returned aboard, and are soon to go out to town to eat dinner.
The other two pictures are morning anchorage in clouds, then the afternoon one at Muros.
---