Fedje-Bergen-Strusshamn

Nano's blog.
Nigel Anderson
Tue 16 May 2006 20:03
Date: 16-05-06    Time: 18:30UTC      Position: N60.24.18  E005.11.45   Name: Strusshamn 

Vi bestemte oss for å ha en tidlig start i dag, for å nå frem til Bergen før butikkene stenger. 'Kvart på 7' høres kanskje for mange som ikke så veldig tidlig. Men, sammenlignet med våre tidligere sedvane som besto i å stå opp klokken 6 for å gå på jobb, er det kanskje ikke så ille -alikevel tidlig nok for oss! I dag har vi nok en fantastisk dag med skyfri himmel. Lite vind fra syd-øst som passet oss dårlig for å komme sydover til Bergen. Så det ble å gå for motor, og innta frokosten (varm te og en brødblings med noe godt på) på veien ned Fedjefjorden. Forbi oss passerer en del store slepebåter, oljetankere og ferger. Sesongen for feriebåter har ikke startet ennå, og klokken syv er vel litt tidlig for de få fritidsbåter som måtte befinne seg i området.
Det er to olje terminaler i dette området - Sture og Mongstad, så det er mye kommersiell trafikk i området. AIS radaren - som vi kjøpte (for bl.a. pengene Nigel fikk av Marit og Roald til sin gebursdag), har underholdt oss med informasjon om de store båtenes navn, fart og retning.
Ankomst i Bergen ca klokken ett, slik at vi får hentet litt utstyr som vi har bestilt av en vennlig båtutstyr forhandler. Litt mat må vi også kjøpe for noen dager fremover, og selvsagt må vi sette av litt tid til å være turister i denne vakre byen. I morgen er det 17-mai (og vår nasjonaldag). Natten før 17-mai er det kjent at det enkelte som liker å feste litt mer enn vanlig - så vi finner oss nok en havn litt utenfor sentrum for å unngå den verste støyen, slik at vi får sove godt til natten.
Vi fikk handlet litt i Bergen. Marinert og røket hvalkjøtt er et must når man er innom Bergen. Vi kjøpte oss en nydelig middag av krabbe og kongekrabbe som gled ned med champagne til. Jeg var innom båtbutiken Gillow & Telle som har gjort en strålende jobb med å forsyne oss med utstyr til båten gjennom de siste to årene. Her plukket jeg opp litt ekstra tauverk, og diverse andre nødvendigheter til turen vår. Karl Erik som eier butikken har vært helt enestående når det gjelder service - han har bestilt utstyr til oss, send det som post pakke til Årdal, og vært en kilde til gode råd. Jeg vil anbefale ham til andre som skal ruste opp båten til en lignende tur.
Strusshamn en en godt beskyttet gjestehavn - ikke mange plasser og ikke så mye av fasililteter, men ikke mye bråk, og helt beskyttet fra vinden, så her skal vi sove godt inatt. Hit kom vi litt før sju.
Bildet under - krabbemat og champagne + at vi ser TV på PC'en (NRK, TV2 og TV Norge her).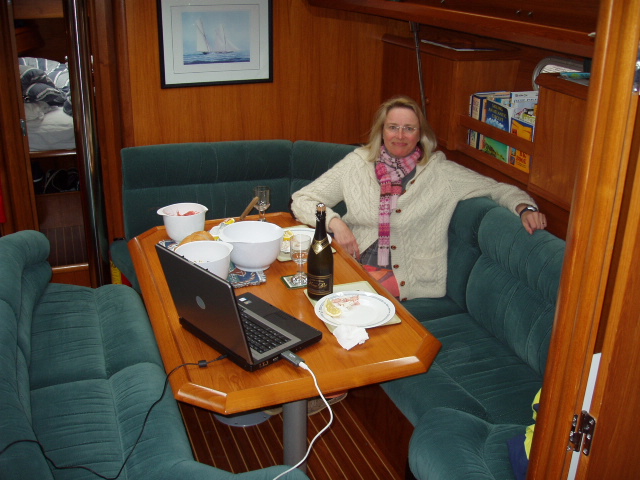 (Picture - crab and king-crab for dinner bought from the fish market in Bergen. Champagne is a fine drink with such light seafood. Watching the TV-news on the PC.)
We decided to get up early so as to get to Bergen before the shops close. Quarter to seven sounds like a lay-in in comparison to the years of getting up at six to go to work, but it was early enough for me. Another fantastic day of blue skies, but the breeze has dropped to almost nothing, and turned to the south east. We were off the pontoon at exactly seven, and motoring down the Fedjefjord as hot tea and a sandwich made an ideal breakfast in the morning sunshine. Just a few tugs, oiltankers and ferries arround - the season for recreational boats has not got going yet, and seven in the morning is a bit to early for the few people who are out.
There are two large oil refineries in this area - Sture and Mongstad, so there is considerable commercial trafic. The AIS radar - aquired just before leaving as a birthday present, has been a source of entertainment - checking the names and progress of all the larger vessels making way in the area.
Arriving at Bergen about one, we could pick up a few marine supplies I had ordered from out friendly chandlers, buy food for a few days, and be tourists on this rather special day for Norwegians. Tomorrow is the seventeenth of May - constitution day - and the evening before is a bit of a party. Some Norewgians are even known to take a small drink. Thus it is not a good idea to spend the night in the middle of a big town if one wishes a good night's sleep. We exploited the famous fish market to by smoked whale meat - a fantastic delicacy which may not be so easy to get hold of outside of Norway.
With this in mind, we completed our shopping and left for the small village of Strusshamn for the night - just about an hour by motor. I managed to spend a fair bit at out main chandlers to complete the necessary rope etc for the trip.
---