Graciosa

Nano's blog.
Nigel Anderson
Fri 27 Oct 2006 20:35
Date: 27-10-06 Time: 1700 UTC Position: 29:13.69N 0013:30.21W Name: Graciosa


Enda en "kjølig" dag og formiddagen gikk til litt lesing og PC/GPS-arbeid ombord Dream Catcher med tilhørende teknisk prat og god kaffe. Behovet for å strekke på beina var også der slik at Fred, Anne Grethe, Rønnaug og jeg gikk en fin men lang tur opp til toppen av enda en av øyas vulkaner. Denne manglet den ene siden av krateret sitt - antageligvis vasket bort av regnet over tusenvis av år - og var formet som en hestesko. Flott utsikt over kysten fikk vi. Vi skulle gå tilbake en annen vei, og la ut på tuen rundt sjøsiden, men kom til et parti på to hundrede meter som ikke var mulig å forsere, slik at vi måtte snu å gå tilbake på land-siden. Dermed ble turen noe lenger enn planlagt og vi var ute i tre og en hav timer totalt. Da fant vi ut at vi fortjente en øl på restaurant da vi kom tilbake til havnen - og dermed ble litt en litt sen handletur for å ordne mat til middag og ikke tid til en tur på internett-kafé heller. Dagens bilde viser den karri-fargete vulkanen vi gikk opp og nesten rundt i dag.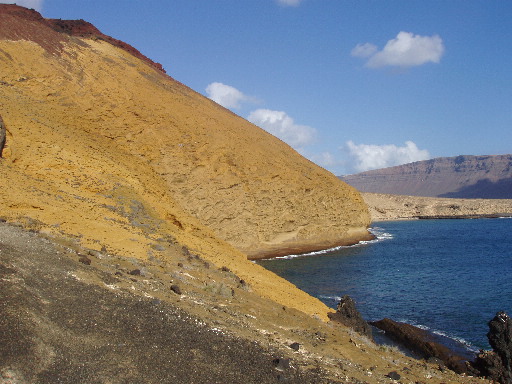 English version
Another "cool" day, the morning being spent reading or working on PC to GPS wiring, programs to read data from the GPS etc on board Dream Catcher, accompanied with some good coffee and diverse technical chat. We also felt the need to stretch the legs a little, and agreed with Fred and Anne Grethe to go and climb another of the island's volcanoes after lunch. This volcano was rather different from the one we were up a few days ago, the crater lacking one side - presumably washed away by erosion over thousands of years - being more horseshoe shaped. We climbed the landward side and walked the crater ridge before descending and heading round to come back along the sea front. After some way we came to a impassable cliff of some 200m length and had to return to walk all the way around the landward side again. This made it a three and a half hour tour, and we all needed cold beers when we returned to the harbour. A quick shop for dinner and back to the boat for the evening has rounded off the day. Today's picture shows the curry coloured rocks and sand on part of the volcano.
---