Still waiting at Bermuda

Nano's blog.
Nigel Anderson
Tue 15 May 2007 22:21
Date: 15-05-07     Time: 22:00 UTC      Position: 32:22.76N  064:40.43W   Name: Bermuda 


I går kveld fikk vi besøk av alle de andre norske båtene til Sushi - som vi hentet fra en restaurant på land. Med ni stykker rundt bordet ble det litt trangt - men det gikk siden man ikke trengte mye armslag til å spise Sushi. En hyggelig kveld for alle - og siste sjanse for noe slikt på denne siden av Atlanterhavet siden mange båter skal reise i kveld eller i morgen tidlig. Se dagens øverste bilde.
Vi har ikke hatt så mye forberedelser å gjøre i dag - jeg har hjulpet Morten ombord "Anna" til å fikse autopiloten og få PC-en til å gjøre de jobbene man trenger ute på havet. Det var nytt skippermøte midt på dagen der de siste værmeldingene ble diskutert og slagplanen lagt for felles kommunikasjon gjennom e-mail, SSB og VHF. Beslutningen der var at et par båter skal reise allerede i kveld, men andre vil vente på en værguru som heter Herb til å se på situasjonen på SSB-radioen litt senere i kveld. Sannsynligvis har vi havnen til oss selv i morgen, men "Anna" er innstilt på drøye avreisen litt og seile sammen med oss. Jeg er spent på om vi får staget levert og installert i morgen slik at vi kan reise på ettermiddagen eller morning på torsdag - vi får se. Rønnaug har jobbet med matforberedelser og det "viktigste" - å lakke tåneglene - se dagens nederste bilde.
Sushimiddag ombord Nano. Med urviseren: Rønnaug, Bjørn (Dream Catcher), Ingrid (Seven), Anne Grethe (DC), Alex (Seven), Fred (DC), Per Kristian og Morten (Anne)
Sushi on board Nano. Cloccwise round the table: Rønnaug, Bjørn (Dream Catcher), Ingrid (Seven), Anne Grethe (DC), Alex (Seven), Fred (DC), Per Kristian and Morten (Anne)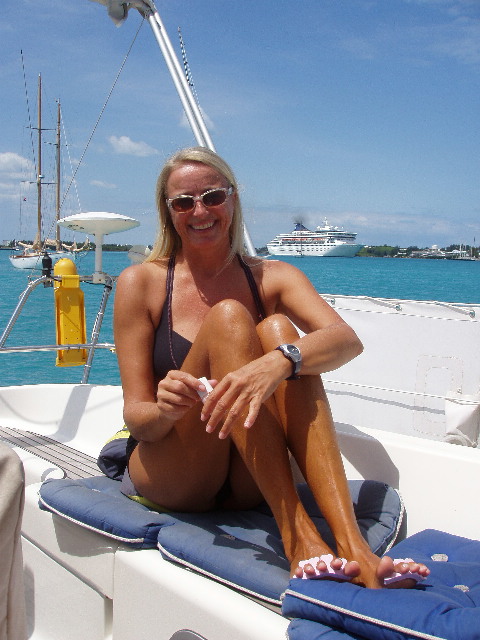 Viktige forberedelser: Rønnalg lakker neglene - merk "verktøyene" mellom tærne!
Important preparations: Rønnaug paints her nails - note the special "tools" between the toes.
English version
We had a very pleasant Sushi-evening on board Nano together with the other three Norwegian boats. With nine of us around the table there wasn't much elbow room - but we managed well. This will be our last get together on this side of the Atlantic as some of the boats will be leaving tonight or tomorrow morning. See the upper picture.
There hasn't been that much preparatory work today for our own boat, but I have spent a few hours helping Morten on "Anna" to fix his autopilot and get his PC running with all the things he needs for an Atlantic crossing. The skipper's meeting spent a long time discussing the various weather forecasts and arranging details for communication with the other boats using E-mail, SSB and VHF. The decision was that a couple of boats will leave this evening while the others will await a weather forecaster called Herb who transmits on SSB at this time. Another brief skippers meeting at 7pm will then clear up the final decision to leave in the next 12 hours. We of course are stuck here awaiting the new shroud which we hope will be in place by the late afternoon tomorrow. We will se what we do about leaving in the evening or waiting for the next morning. Although the other Scandinavians will leave 12-24 hours before us, "Anna" at least will wait for us and we plan to sail together. We may well catch up with the smaller boats after a few days, though the ocean is big and the visible horizon is small. Rønnaug has been doing some preparatory food making and the essential painting of nail varnish on the toenails - see the lower picture.
---