Bermuda - Azores. Day 13

Nano's blog.
Nigel Anderson
Sat 2 Jun 2007 16:08
Date: 02-06-07     Time: 15:00 UTC      Position: 34:29.90N  032:13.40W  

Distance last 24h: 156          Distance from Bermuda: 1623           Distance to Horta: 299
Wind speed & direction: SW 15-18                 Current COG, SOG: 047, 6.3    Waves: 2m       Barometer: 1023
Vi hadde sol og frisk bris hele dagen i går, og bra driv i båtene. I dag har vinden løyet litt og det er overskyet med regn i mellom. På grunn av problemene med vår autopilot holdte vi en kurs på rundt 065 grader. For å prøve å kunne endre kurs var jeg inn i oppsettet til GPS'en og endret tallet fra magnetisk variasjon (avviket mellom sann nord og magnetisk nord), men autopiloten var tydeligvis bestemt på å holde en magnetisk kurs og ikke sann kurs. Det var idé nummer en i vasken. Dette var datamannens løsning - som denne gangen var en god idé, men fungerte ikke i praksis. Så kom fysikerens løsning - å feste noe magnetisk i nærheten av kompasset for å lure det til å tro at nord er et annet sted enn det virkelig er. Dette fungerte delvis, og vi klarte å endre kurs til 045 grader, men autopiloten ble veldig ustabil, rattet vekselvis helt til styrbord og så helt til babord, og vi holdte kurs som en full sjømann. Problemet er at når båten ruller så endre magnetfeltet seg idet vinkelen mellom magneten og kompasset endrer seg. Det vil sannsynligvis fungere på flat sjø, men ikke her ute. Så i dag tidlig prøvde vi mekanikerens løsning - å skru av kompasset fra veggen for så å skru den på igjen med et avstandsstykke på den ene siden slit at den står nå på skrå istedenfor tverrskips. Glimrende - vi har endret kurs til ca. 045 grader som er bare 10 grader feil i forhold til Horta. Det passer bra med vinden for tiden - hadde vi seilt rett mot Horta vill vinden kommet inn rett aktenfra - platt lens - som ikke er spesielt gunstig verken fartsmessig eller sikkerhetsmessig. Jeg har også gjort det eneste som er riktig - elektrikerens løsning - som er å åpne alle elektriske koblinger, sørge for at de er tørre, fri for irr, og at koblingene er ordentlig skrudd til. Men, jeg har ikke tatt sjansen med å se om alt fungere igjen i tilfelle det fører til at autopiloten slå seg selv av. Vi får se når vi nærmer oss punktet der vi allikevel må handstyre om alt nå fungerer igjen etter at kontaktene er sjekket. Dagens bilde: fluksgate-kompasset skråstilt ved hjelp av litt kjøkkenrull og en plasthylse som jeg kjøpte uten å vite hva den skulle brukes til på Bermuda.
Seven, som er litt foran oss, og Anna som seiler omtrent side ved side med oss rapportere at alt er vel om bord.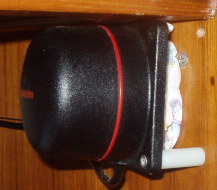 Kompasset montert på skrå for å strye riktig kurs.
The fluxgate compass remounted at an angle in order to change course.
English version
We had sun and a fresh breeze all day yesterday, but this has turned into clouds with some rain and a little less wind today. Due to the problems with our autopilot not being able to do anything than steer the course it was programmed to do when all the instruments stopped working, we headed about 065 degrees all day and night - somewhat off course. I tried two solutions to the problem of changing course yesterday, neither worked well. Changing the amount of magnetic variation (the amount that magnetic north deviates from true north) in the GPS had no effect at all. I then tried fixing a small magnet near the fluxgate compass. This did change our course to the better, but the autopilot became totally unstable - helming hard a port before swinging hard to starboard afterwards. Our course looked like it was steered by a drunk seaman. The problem is that as the boat rolls on the waves, the angle between the magnetic field imposed by the magnet changes in relation to the earth's magnetic field - so it would probably work fine in flat water, but not out here. I have also had the instruments out of their housing and checked all the electrical contacts to see that they are dry and clean, and properly screwed together. I daren't test this solution just yet in case the autopilot turns itself into hand-steering mode when the instrument gets power again. We will see when we get closer to Horta it the problem is solved. So this morning we rolled away all the sails and screwed loose the compass. The autopilot goes wild when the screwdriver gets near it - hence the reason for taking the sails down. However we have now mounted it at an angle with the help of a plastic spacer and piece of kitchen roll - see today's picture. We are now sailing at about 050 degrees - still not quite straight to Horta, but that would anyway involve having the wind dead astern, which is not a good angle to sail either for speed or comfort and safety aboard. The little plastic spacer was bought in Bermuda with no specific job in mind - I just saw some there and decided it would be a good idea to have a selection in the spares box!
Seven and Anna are close by and report all well on board despite the rolling motion of the waves now that we have the wind from well abaft the beam.
---