Last day on Graciosa

Nano's blog.
Nigel Anderson
Sat 28 Oct 2006 20:35
Date: 28-10-06 Time: 1745 UTC Position: 29:13.69N 0013:30.21W Name: Graciosa


Sigurd, som har vært gjest ombord Dream Catcher reiste i dag - med ferja som går herifra kl. 8. Jentene bestemte seg for å følge med ham og ta seg en dag på Lanzarote. Jeg hadde en lang liste med ting å gjøre ombord i båten og ble ikke med. Det gjorde ikke Fred heller. Vi stod imidlertidig tidlig opp for å følge jentene og Sigurd til ferja og si adjø - forøvrig litt uvant å stå opp kl. 7! Min dag har gått til litt forberedelse til den lange turen og noen vedlikeholdsjobber. Vi har et ekstra-anker som jeg liker å stue under dørken på lange turer - vekt er best så lavt som mulig i en båt. Dette innebærer å løfte en del av dørken for å få alt på plass, og siden dette var gjort passet det med en god rengjøring der - utrolig mange hybelkaniner, sandkorn osv. som samler seg der. Litt omorganisering ble det også og jeg har nå fått bedre stueplass til verktøy, motorolje og reservedeler. Den frigjorte plassen måtte jeg fylle med boksmat og brusbokser. Den andre store jobben var å demontere sofabenken som står omtrent midt i kahytten. Denne har alltid følt litt "lealaus" og siste gang vi var ute i litt sjø prøvde jeg å legge meg ned der men det var en stadig knirking som både var irriterende og potensielt skadelig. Så i dag ble det meste av konstruksjonen demontert, alle skruer skrudd til litt ekstra, samt at jeg bygde inn noen ekstra avstivninger i konstruksjonen. Resultatet, utenom vondt i ryggen og en vannblemme på handflata fra all skruingen, er at det hele virker mye mer robust og stødig. Men dette var varmt arbeid og etter at sola brøt gjennom skyene midt på dagen har det vært litt for varmt for jobbing inne i båten, og jeg har tatt det med ro resten av dagen.
Jentene rapporterer om en fin til til Lanzarote og hovedstaden Arrecife der de har handlet en god del klær og julegaver.
Dagens bilde er fra vulkan-turen vår i går.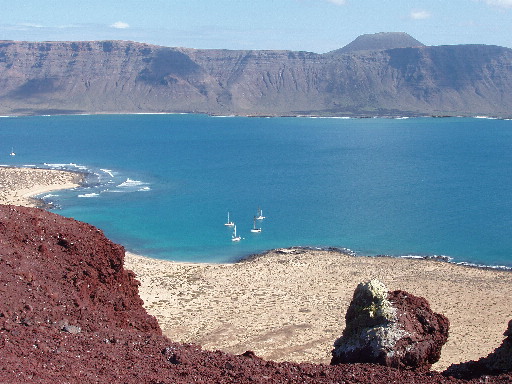 One of several anchorages around Graciosa
Én av flere ankerplasser rundt Graciosa
English version
Sigurd, who has been a guest on board Dream Catcher left today - taking the ferry at eight this morning. The girls decided to go with him to Lanzarote in order to have a day out there. I had a long list of jobs to do and neither Fred nor I joined them. We were however up at seven to see Sigurd and the girls off from the ferry quay - we are just not used to getting up so early! My day has been spent on some preparations for the long trip over the Atlantic. We have a kedge (spare anchor) which I like to move from its usual stowage spot in the cockpit to under the floorboards on the cabin sole. This keeps the weight low - always an advantage on a boat. This does involve lifting a large section of the floor, and while the floor was up I took the opportunity of having a good clean up down there - there seems to gather huge amounts of fluff and sand there! A re-organization of the storage gave a considerable amount of extra space for tools and spare parts -I had to fill some of the liberated storage with tins of food and drink. The other big job was to try and stiffen the construction of the bench in the middle of the cabin. This has always seemed somewhat loose so I disassembled a lot of it, tightened all the screws and built inn some extra cross stiffness where I saw that the design was not well enough thought out. The result, apart from a pain in the back and a blister on my hand from the screwdriver, is a much sturdier and stiffer construction - which hopefully will not creak when being slept upon in large waves. This was pretty hot work below decks after the sun had got out, so after a shower I took the rest of the afternoon very easily.
The girls report is of a fine day on Lanzarote at the capital Arrecife where theny have bought clothes and christmas presents.
Today's picture is taken from the volcano trip yesterday.
---