Dover - Dunkerque

Nano's blog.
Nigel Anderson
Fri 13 Jul 2007 18:52
Date: 13-07-07     Time: 18:00 UTC      Position: dd:mm.mmN  ddd:mm.mmE   Name: Dunkerque 


Vi har sikkert sett flere skip i dag enn på resten av turen til sammen! Stredet mellom Dover og Calais er verdens mest trafikkerte farvann og det er strenge regler for seilingsledene og hvordan man skal forholde seg til disse. For å komme inn og ut av Dover havn må man først få klarering fra havnesjefen over VHF-radioen. Vi måtte vente på to ferjer før vi slapp gjennom åpningen i moloen. All trafikk skal holde seg i en såkalt TSS - Trafikk Separasjons-Sone, der vestgående båter holder seg i den sørlige halvparten og østgående i den nordlige delen. Hver del er ca. fire nautiske mil i bredde og det er en stripe med "ingenmannsland" i midten. Her skal man holde kurs som er parallelt med leden, eller hvis man skal krysse, skal man krysse ved 90 grader til kjøreretningen. Dermed seilte vi litt sikk-sakk i dag for gjorde turen til Dunkerque et par sjømil lenger. Når man krysser TSS'en skal man ha tunga beint i munnen - og studerer både AIS-radaren, den vanlige radaren, og horisonten svært nøye. Det var tett med båter men det gikk faktisk atskillig lettere enn vi først hadde fryktet. AIS'en er et utrolig verktøy her - man ser alle større båter med navn, fart og retning, samt en "hale" på skjermen som viser om det er kollisjonsfare eller ikke. Den vanlige radaren viser bare hvor båter er, og med 15 båter på skjermen samtidig er det umulig å ha kontroll over alle retninger osv. En liten periode med duskregn satte ned sikten til én sjømil, men ellers hadde vi bra visuell kontroll på de andre båtene. Som ifjor da vi krysset fra England til Frankrike, kom sommeren da vi nærmet oss fransk jord.
Vi fant oss en gjesteplass, liggende utenfor en svensk båt, og gikk til byen for å finne museet som omhandler dagene fra 20/5/1940 til 3/6/1940 - da 350.000 britiske og franske soldater ble evakuert fra havnen og strendene ved Dunkerque. Her gikk vi og så på utstillingene og en film før vi tok en minibuss til strendene der dette skjedde - som nå er helt vanlige strender med badende turister, restauranter, hotell osv. Vi nøt en øl i solsteika før vi gikk tilbake til båten. Dagens bilde - fra museet.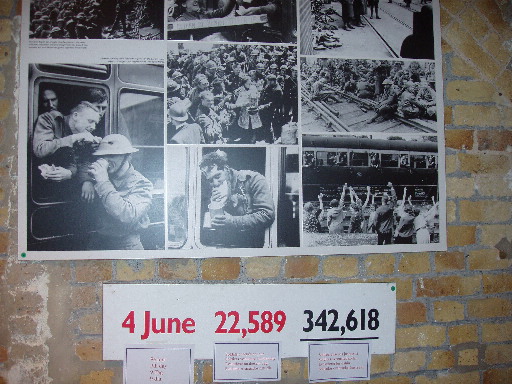 Fra museet - på den siste dagen var summen kommet opp i snaue 350.000 soldater reddet.
From the museum - on the last day of the evacuation the total of evacuated soldier was almost 350,000.
English version
I think we have seen more ships today than on the rest of this year of sailing put together. The Dover Straight is the world's busiest piece of sea and there are strict regulations in force to ensure the safe passage of vessels. Just getting out of Dover Harbour required clearance from the port controller - we had to wait for two ferries before it was our turn to leave. All passing ships shall navigate in the TSS - Traffic Separation Scheme - well defined lanes of traffic with a "no-man's-land" between them. Crossing boats must cross at 90 degrees to the traffic lanes, other vessels must follow the lanes. So we had some zig-zag sailing to get to the other side today, adding a couple of miles to the day's journey. Crossing the TSS requires concentration, a good lookout and preferably both normal radar and an AIS-radar. The AIS was invaluable today as it shows all vessels over 300 tonnes, their speed and course together with a "tail" which indicates their relative motion in relation to us - so if the tail points straight towards the middle of the screen, then there is a collision danger. The normal radar doesn't have this functionality and with perhaps 15 ships on its screen at any time, it is impossible to keep track of who is going where. Apart from a period of drizzle when visibility was poor, we have seen well and had good control of the other ships. All in all the crossing of the TSS went much better than we initially feared. Like last summer when we crossed from England to France, the summer arrived as we approached France - suddenly we could divest ourselves of the sailing gear and warm pullovers - summer is here!
We found ourselves a spot on the visitors pontoon, and went to town to find the museum of the Dunkerque evacuation in late May of 1940. Some 350,000 British and French soldiers were evacuated from the port and beaches here in the space of nine hectic days - securing forces and equipment to enable the British army to build itself into a force capable of winning the war some five years later (with a little help from our American friends). We took a free minibus to the beach front area - the same beaches where the evacuation took place and tens of thousands lost their lives. A cold beer tasted good in the afternoon sun. Today's picture - from the museum.
.
---