Less wind in Horta

Nano's blog.
Nigel Anderson
Fri 8 Jun 2007 18:37
Date: 08-06-07     Time: 18:00 UTC      Position: 38:31.76N  028:37.45W   Name: Horta 


Etter enda en vindfull natt og formiddag, forsvant vinden plutselig ved to-tiden. Vinden er nok der fortsatt, men det kommer mer fra vest enn nord, og da ligger vi i le for øya og har det veldig behagelig der vi ligger for anker. Vi kunne da endelig forlate båten og gå i land - der vi traff Fred og Anne Grethe, Nina fra Sailabout og Jarle fra Hvorfor Ikke. Endelig blir det fellesmiddag ute på byen i kveld! Vi benyttet anledningen til å stelle oss med en lang og varm dusj i havnene klubblokale. Vi tuslet rundt i byen, men raskt oppga prosjektet idet bygene gikk over i regn uten opphold.
Dagens bilde ble tatt for over ett år siden, men jeg tar det med i dag fordi det er Nigels foreldres gullbryllupsdag - som de feire ved å sluttføre en fottur på tvers av Skottland langs den Kaledonske kanalen - der vi seilte med dem i juni i fjor.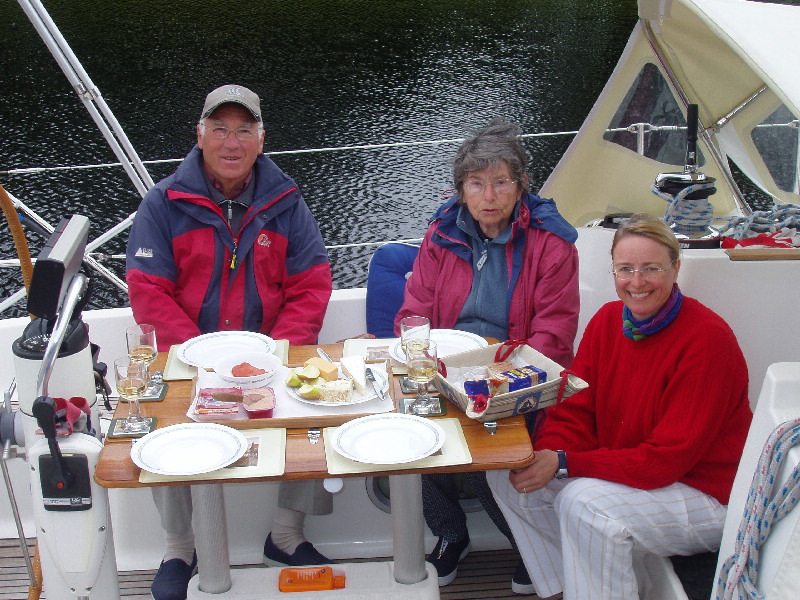 Keith og Molly - gift i 50 år!
Keith and Molly - married for 50 years!
English version
After another windy night and morning the wind died away suddenly at about two. The wind is still there, but has turned more westerly so that we are protected here in the lee of the island. Suddenly life at anchor has become quite pleasant. We could finally leave the boat and go ashore today, where we met up with some of the other Norwegians. Finally this evening there will be a dinner in town to celebrate our (and Anna's and Seven's) arrival. We utilized the land visit for a long hot shower in the marina's clubhouse. We had a brief walk round the town too, but gave up as the showers turned to heavy consistent rain.
Today's picture was taken just over a year ago, but I include it today as it is Nigel's parents' golden wedding anniversary - and they are celebrating back on the banks of Loch Ness and the Caledonian Canal where we sailed together a year ago.
---