Madeira/Funchal

Nano's blog.
Nigel Anderson
Wed 18 Oct 2006 17:47
Date: 18-10-06     Time: 17:00 UTC      Position: 32:44.49N  016:42.72W   Name: Madeira - near Canical 


Vi var innom "Dream Catcher" i går kveld - de har fått besøk fra Norge av Sigurd og Kari som skal være med dem over til Kanariøyene. De hadde med seg ferske norske aviser - som vi fikk låne. Merkelig nok var det ingenting av interesse i avisene og mye av de gamle sakene fra før vi forlot landet - som Statiol/Iran-skandalen - går fortsatt. Men det var jo artig å lese aviser i papirformat - vi prøver å lese aftenposten på nettet når vi har tilkobling. Jeg hadde stått på timen før vi drog og fikk laget en ostekake som alle satte pris på.
I dag har vi vært i Funchal med buss. Det var en litt traumatisk opplevelse fordi vi så bussen som vi trodde at vi skulle ta kjøre opp til endeholdeplassen - et godt tegn tenkte vi. Men bussen kom aldri tilbake og vi ventet i over en time før vi ble lei og gikk tilbake mot hotellet. Heldigvis kom hotellets minibus, og vi fikk sitte på til Machico der vi gikk rett på ekspressbussen til Funchal. En bedre lunsj, litt shopping og vandring i de mange gatene i sentrum ble avsluttet av en handlerunde i supermarkedet som ligger like ved busstasjonen. Det var ikke ekspressbuss tilbake til båthavnen og vi var innom omtrent hele øya før vi endelig kom til hotellet ved havnen.
Været er tydeligvis i bedring - 2-3 båter har forlatt havnen i dag på vei mot Kanariøyene og vi snakket med et belgisk par som skal reise i morgen. Vi skal sjekke værprognosene når vi sender bloggen og vurdere om også vi skal reise imorgen.
Dagens bilde tok vi i Funchal som viser hvordan de steinsetter fortauene med små stein - noe Portugueserne er flinke til.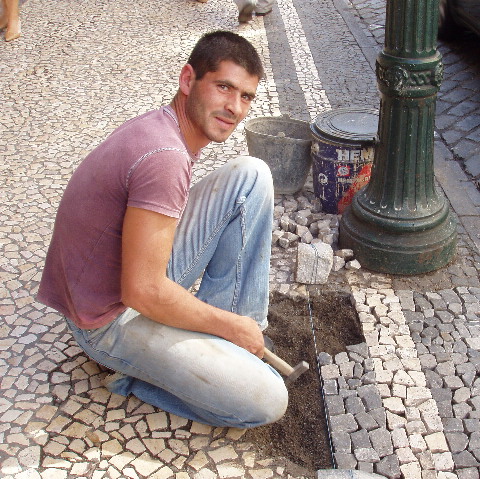 English version
We were over on "Dream Catcher" last night for some wine - they have guests from Norway who will be with them for the crossing to the Canaries. I had made a cheescake which was appreciated by all. Their guests Sigurd and Kari had lots of Norwegian newspapers with them - which we have borrowed and read with fervor - though there was no real news of interest. We keep a little up to date by reading one paper on-line when we have internet access.
We took the bus to Funchal today, though a misunderstandig about when the bus left meant that we waited at the roadside for over an hour before Bruno in the hotel minibus gave us a lift into Machico where we got straight onto the express bus to Funchal. We started with a good lunch at a rather classy restaurant, then spent the afternoon wandering around, looking at the sights, a little shopping, then a stop for groceries at the shop by the bus station before getting the non-express bus home. This bus seemed to visit every house on the eastern half of the island before we finally were let out at the hotel by the harbour.
The weather seems to be improving for the crossing to the Canaries, two or three boats have left today and we spoke with a Belgian couple who are planning to leave tomorrow, so we will download all the forecasts when we go up to the hotel to send the blog.
Today's picture if from Funchal showing a worker setting the small angular stones that are used for paving the pavements - something which the Portuguese are very good at.
---