Kiel Canal day 2 - Rendsburg

Nano's blog.
Nigel Anderson
Wed 25 Jul 2007 15:33
Date: 25-07-07     Time: 15:00 UTC      Position: 54:18.62N  009:40.92E   Name: Obereider 


Det må sies at Kiel-Kanalen ikke er det mest spennende sted å seile. Man har ikke lov å seile faktisk - så selv med litt medvind i dag måtte vi gå for motor. I motsetning til Nederland der kanalene pleier å gå innom alle de små koselige landsbyene, er Kielkanlen lagt utenom bebyggelsen. Vanner er veldig brunt og bunnen er av tykt mudder - som vi oppdaget da vi skulle lette ankeret i dag tidlig. Når det blåser - som det gjør nå - blir båten dekket av løv og småkryp som detter ned fra trærne. Omtrent to tredjedels av veien er byen Rendsburg - der vi ligger nå. Sikkert et fint sted å besøke, men det frister ikke nå og vi slapper bare av i båten etter turen.
Til tross for det brune vannet er det mye ender og svaner å se, samt folk som fisker. Dagens bilde - svanene som vi ser mange av.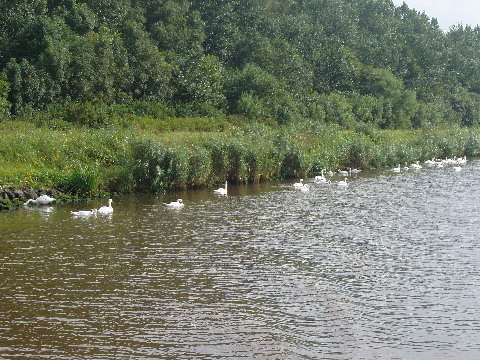 Mange svaner trives på kanalen.
Swans seem to thrive on the canal.
English version
It has to be said that the Kiel Canal is not the most interesting place to be sailing. Sailing is not allowed - all boats must proceed by motor, so we have motored in a freshish and reasonably sailable wind today. The water is a thick brown colour and the mud at the bottom is a foul ooze - as we discovered when we took up the anchor this morning. Unlike the canals in Holland which invariably go through lots of small towns and villages, the Kiel Canal seems to avoid such places - with the exception of Rendsburg where we are currently moored. The town seems like a quaint old place, but it is a bit of a hike from where we are moored and we have chosen just to take it easy for the afternoon.
Despite the thick brown water, ducks and swans abound, as do people sitting on the banks with fishing rods. Today's picture - some of the many swans we have seen.
---