Madeira

Nano's blog.
Nigel Anderson
Sat 14 Oct 2006 16:03
Date: 14-10-06     Time: 17:00 UTC      Position: 32:44.49N  016:42.72W   Name: Madeira - near Cancial


Uten gjester og uten leiebil har vi hatt en fullstendig hviledag. Vi har ordnet i båten - pakket ned sengetøy etter gjestene osv, vasket dørk og ristet tepper. Det har blåst mye fra øst i dag - noe som sender en del bølger inn i havnen. Alle båtene jager fram og tilbake i fortøyningene sine og jeg har brukt mye tid til å legge ut ekstrafortøyninger til Nano slik at hun ligger i fra pongtongen og ikke svinger eller jager. Vi var heldig i går i at havnemannen kom og ba oss om å flytte til båsen ved siden av, og siden det ikke var vind valgte jeg å snu båten i samme prosess og legge til med hekken inn til brygga. Dette gjør at vi får vinden inn mer over baugen som gir mye roligere bevegelser samt hjelper med å gi god utlufting.
Når man har god tid til å få ting gjort blir de som oftest ikke gjort med det samme - jeg har en del småjobber på min liste men inspirasjonen har ikke kommet over meg i dag, så det har bare blitt noen få småting som har kommet på plass. Litt tid til å reflektere har det blitt, og siden jeg har WiFi-tilgang hvis jeg går opp til hotellet, legger jeg ved fire bilder i dag fra dagene våre på Madeira.
Vi har spist godt - her "Espada" - en dypvannsfisk som er spesialitet fra Madeira.
We have eaten well - here a meal of "Espada" or Scabbard Fish, a deep water fish and speciality of Madeira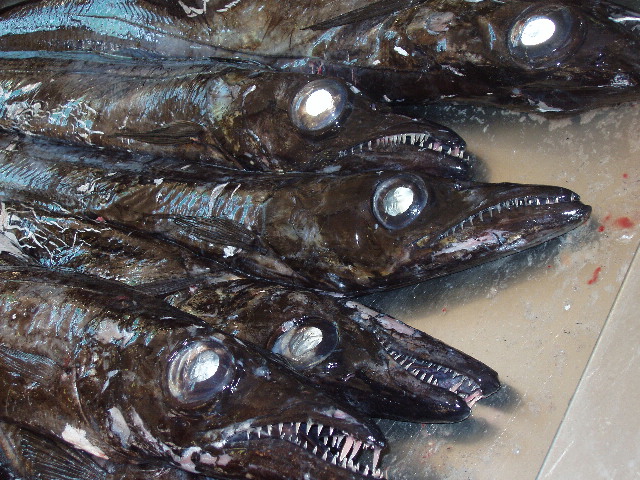 Espada - lang, tynn, svart og stygg og med farlig skarpe tenner.
Espada - long, sleek black and ugly with dangerously sharp teeth.
Produksjon av kurvmøbler - viktig industri her på Madeira
Production of wicker furniture - an important industry on Madeira.
Havnen vår ved Quinta do Lorde - bare noen år gammel, ikke helt ferdig og knapt 50% av plassene i bruk.
Our harbour at Quinta do Lorde - just a few years old, not quite finished and only about 50% of the places are in use.
English version
With no guests and no car we have had a day of doing nothing - though we spend all day doing it. Some re-arranging in the boat is necessary after having guests - duvets need putting away etc. Carpets need shaking and floors washing. We have also put our warmest sailing suits into storage under our bed in the bow as we don't anticipate needing these for a while. There has been a strong easterly wind blowing today - which sets up some waves and current in the harbour, making all the boats hunt backwards and forwards on their moorings. We were fortunate to be asked to move yesterday - there was no wind and I backed the boat into her new slot so that we can walk on and off via the bathing platform. This also means that we have our bow to the wind and waves today making things more comfortable on board. I have spent some time putting out extra ropes to keep us suspended off the pontoon while restricting the amount of swinging and hunting.
Having plenty of time to do odd jobs means that they don't get done very fast. This has been the case today where laziness has taken hold and most of the day has been spent relaxing in one form or another. Some reflecting on our time in Madeira, together with WiFi access if I take the PC up the hill to the hotel, has given four pictures today of our days so far in Madeira.
---