Horta

Nano's blog.
Nigel Anderson
Wed 6 Jun 2007 21:11
Date: 06-06-07     Time: 22:00 UTC      Position: 38:31.76N  028:37.44W   Name: Horta 


Vi har vært noe mer heldig med været i dag - sol men kraftige byger og mye vind. Vi har vært ombord båten hele dagen og gjort en del jobber etter turen. Gledelig har jeg funnet feilen med autopiloten og instrumentene. En kabel som sender informasjon fra instrumentene til radaren var årsak til alle problemene. Siden det ikke er så veldig kritisk å sende slik informasjon til radaren, kan vi bare sløyfe hele kabelen, men jeg skal prøve å få til noe etterhvert. Ellers har hele ettermiddagen gått til å hjelpe Morten fra Anna med PC-en og satellittelefonen. Nå er det plutselig blitt kveld så det blir en kort blogg i dag. Dagens bilde fra turen over Atlanterhavet.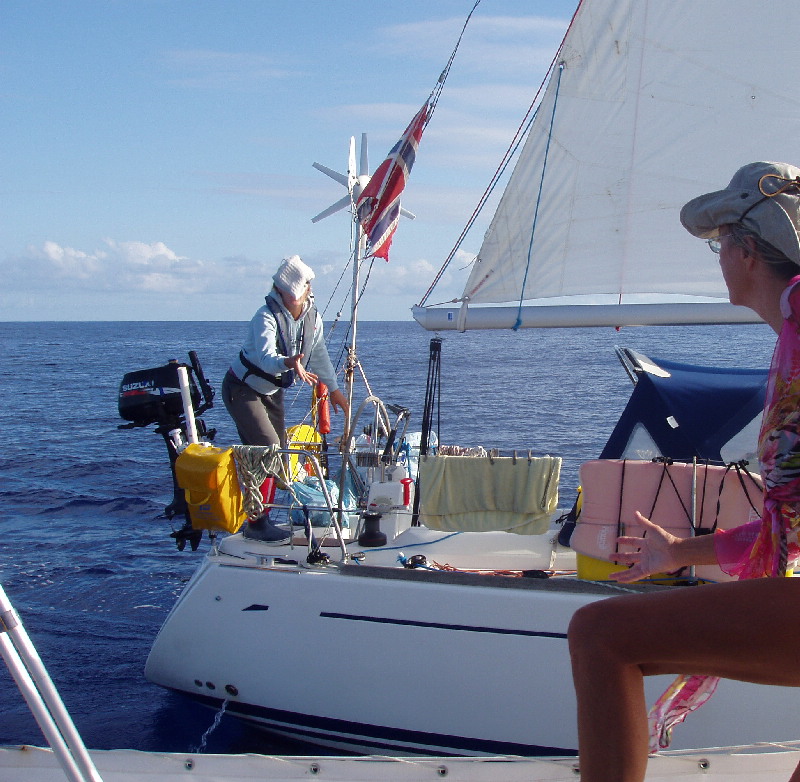 Ingrid kaster en USB minne-pinne pakket inn i en klut (som flyr gjennom lufta og dekker Ingrids ansikt).
Ingrid throws a USB memory stick packed in in a cloth (which is flying through the air covering Ingrid's face)
English version
Better weather today - sunny but some very heavy showers and strong winds. We have been on board all day doing some of the jobs which need doing after a long sail. The good news is that I have isolated the problem with the instruments and autopilot - a cable from the instruments to the radar is the problem. Being a non-critical connection we can do without it, though I will try and get a new cable or repair the old one. The afternoon went on helping Morten from Anna with his PC and satellite phone - which we now have almost sorted. Suddenly it is evening, so a short blog is the order of the day. Today's picture from the crossing.
---