Risør - Galebound

Nano's blog.
Nigel Anderson
Wed 15 Aug 2007 19:27
Date: 15-08-07     Time: 18:30 UTC      Position: 58:43.54N  009:15.55E   Name: Pjolter Bay, Risør 


Der vi ankret i går var det kanskje litt trangt - selv om vi har vært her før og sett at flere båter ligger på svai i den ene enden av bukta. Vinden økte på og skiftet stadig retning i løpet av natta og vi våknet brått ved tre-tiden da vi hørte "dunk". Vi hadde dreid med vinden og kommet borti en liten motorbåt som lå på en fortøyningsbøye utenfor en hytte. Heldigvis hadde begge båter gummilister der vi traff så det ble ikke skader av noen slag. Vi hadde antageligvis bare svingt litt for mye - vi hadde 37m kjetting ute i ca. 10m vann. Vi valgte å ta opp ankeret - feil valg - vi skulle bare kortet inn kjettingen noen meter. Tvinnet inn i ankerkjettingen var en 2m lang trestokk, ca 3m over ankeret. Jeg måtte avlaste vekten av ankeret med båtshaken mens Rønnaug jobbet med å tvinne kjettingen tilbake slik at stokken kom fri. Siden det var bekmørks, måtte vi bruke radaren for å finne midten av bukten for å sette ankeret på nytt, og vi fikk da sove litt før ankeralarmen begynte å pipe. Nå hadde vi svingt i en annen retning og hekken lå faretruende nær land. Nå var det såpass lyst at vi kunne se hva vi holdte på med og satte ankeret på nytt midt i bukta - men det ville ikke sitte så vi ga opp og la oss noen hundre meter lenger inn ved en brygge - som er merket "Maks 36 fot". Da fikk vi endelig sove godt inntil telefonen ringte ca. kvart på tolv!.
Vi hadde håpet å komme til Arendal, men værvarselet var for stiv kuling, det regnet og sikten var dårlig. Det var et lett valg å bli i Pjolter Bay litt ekstra. Regnet forsvant etterhvert, men vinden ulte i riggen til sent på ettermiddagen - og da var det for sent til å tenkte på å legge ut på noen tur. Dagens bilde fra turen til Stråholmen.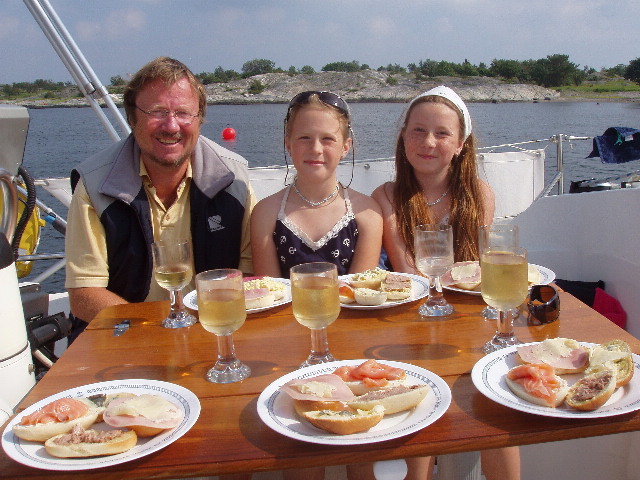 Lunsj ved Stråholmen. f.v Per, Kristin og Helene.
Lunch at Stråholmen. From left: Per, Kristin and Helene.
English version
The bay in which we anchored is a little small to allow comfortable swinging room - even with only us at anchor there. One side of the bay is is slightly hampered by having a small motor boat on a mooring. The wind picked up during the night and swung around from all directions. We awoke to a bump in the night - we had swung round and had briefly touched the motor boat. Fortunately we have a thick rubber edge on our stern and the motor boat similarly around its hull, so the little bump caused no damage to either boat. We had most likely a little too much chain out - 37m in 10m of water - so that our swing radius was just too big. We should just have shortened the scope by a few metres, but we actually took the anchor up, only to find that a 2m long tree trunk was wrapped in the anchor chain about 3m above the anchor. To get this out required that I took all the weight of the anchor by lifting it with the boatman's hook while Rønnaug worked on de-twisting the chain to let the tree fall out. As it was pitch dark, we used the radar to find the middle of the bay and anchored again, this time with the anchor alarm on and shorter scope. We got some sleep before the anchor alarm went off and I could see that we had swung round in another direction and were now too close to land for comfort. Now it was sufficiently light so that we could see, but it was raining and not much fun on deck. Dropping the anchor in the middle of the bay - also the deepest part, we failed to get it to dig in, so we gave up the process and moored alongside a wooden pier in a different part of the bay. Finally we could get some good sleep - which we did until my mobile rang at quarter to twelve!
Our plans of getting to Arendal were scotched by the wind - the forecast was for a force seven which was quite believable judging by the wind in this otherwise well protected bay. Combined with rain and poor visibility we had an easy decision to stay in Pjolter Bay for a little longer. Although the rain cleared away after a while, the wind was still howling through the rigging until late in the afternoon - by which time it was too late to think about going out to sea to get further down the coast. Today's picture from our trip to Stråholmen.
---