Falmouth Harbour, Antigua. Recuperation.

Nano's blog.
Nigel Anderson
Mon 26 Mar 2007 22:26
Date: 26-03-07 Time: 22:00 UTC Position: 17:00.60N 061:46.63W Name: Falmouth Harbour


På kvelden snakket jeg med legen og kameraten min i Årdal og fikk sendt bilder til ham for vurderingen. Han anbefalte å sette enda et sting i såret - som Rønnaug gjorde igjen på ekspert måte. I dag har jeg prøvd å gå litt på foten men må passe veldig på vektfordelingen. Det blir tydeligvis mange dager med avslappende dager ombord. Vi har vært i land i dag for å forlenge oppholdet her og handle mat til noen dager. Litt kjedelig blir det at jeg ikke kan gå så mye og bør helst ikke få saltvann på såret. Det blir iallfall rolige dager med mye lesing og litt internett-aktivitet. Det blir da vanskelig å finne ting å skrive om og bilder de neste dagene, men hvem vet hva som dukker opp. Dagens bilde viser iallfall den skadde skipper ved PC-en.
Underholdningen i dag var skipet til Abramovich (rik russer som eier Chelsea FC) som forflyttet seg fra havnen ut til en ankerplass der mannskapet kunne løfte seilbåten som tilhører skipet (sikkert litt over 40 fot!) på dekk, sammen med en tilsvarende størrelse motorbåt og et helikopter.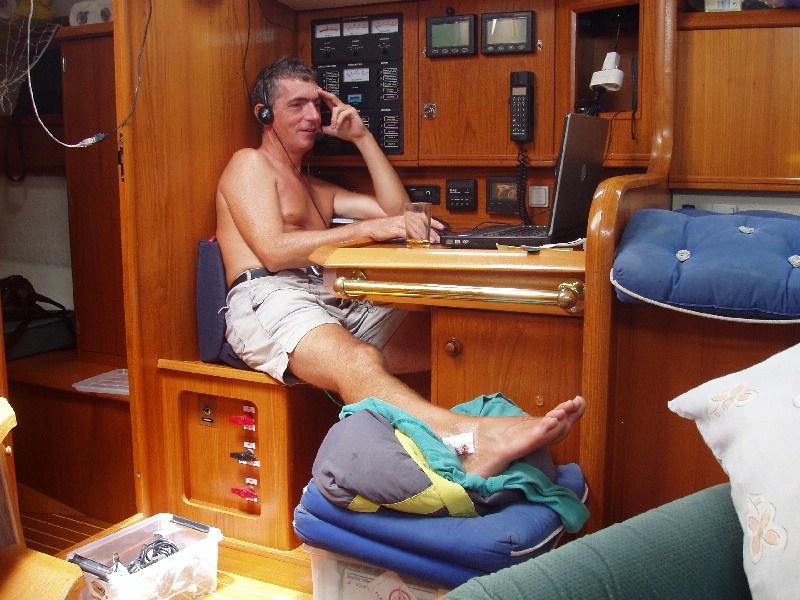 English version
In the early evening I had a chat on Skype with my friend and doctor Georg back in Årdal about the cut. Having seen the picture, he recommended putting in a fourth stitch - which Rønnaug did expertly. Today I have tried walking on it, but I have to be very carefull with the weight distribution to avoid opening up the wound and making it bleed again. I can see that I am confined to the boat and the laid back life for several days. We did actually take the dinghy into town this morning in order to extend our stay by a couple of days and to get some provisions. Othewise I am confined to taking things easy on board for a while. Still, it gives me the chance for lots of reading and playing bridge on the internett. I see that it will be difficult to find things to write about for the next days - pictures too will prove difficult. Today's picture show the injured skipper at his PC.
The entertainment came courtesy of Mr. Abramovich's (the rich Russian who owns Chelsea FC) ship which left harbour and anchored up in the bay where the crew liftet the ship's sail boat - a 40 foot plus regatta boat - onto its cradle on deck, beside the similarly sized cabin cruiser and his helicopter.
---