Marigot BAy - Deux Pitons

Nano's blog.
Nigel Anderson
Wed 31 Jan 2007 23:39
Date: 31-01-07     Time: 23:50 UTC      Position: 13:49.16N  061:03.98W   Name: Deux Pitons 


Vi har virkelig opplevd mye i dag og gjestene virker kjempefornøyd! Vi spiste middag på restaurant i Marigot Bay i går kveld - eierens samboer er norsk forøvrig. Vi sov godt på ankeret vårt i stort sett vindstille forhold med hyppige byger som krevde åpning og stenging av luker stadig vekk. Etter et morgenbad fant vi ut at vi ville ta turen ned til Deux Pitons like ved Soufriere - en tur på ti sjømil. Vi kunne alltid returnere til Marigot Bay dersom dønningene gjorde det ubehagelig å legge der.Vi hadde fin seilebris på turen ned - over sju knops fart av og til - og kom fram i god tid for lunsj. Som vanlig kom det "Boat Boys" i store mengder, men vi gjorde en avtale med "Concorde" å være vår "Boy" og avviste alle andre henvendelser bortsett fra å kjøpe frukt til frokost. Vår boat boy kom som avtalt og kjørte oss inn til Soufriere der han ordnet med en taxi som skulle ta oss til de botaniske hagene og et fossefall. Her vandret vi rundt i halvannen timer - kjølig i skyggen fra de flotte plantene. Bekken var svart med svovel - her er det også varme kilder med helsebringende effekt, men noe illeluktende! Turen i taxibåten var vel verdt pengene - vi kjørte tett opp mot land rundt det ene av disse to spisse fjellene som heter "Piton".
Vel tilbake på båten var vi gode og varme, og en svømmetur inn på land var nydelig. Vi har også sett både havskillpadde og en delfin i dag. For å runde av opplevelsene så vi solnedgangen over havet - og igjen så vi den berømte grønne blink. Dagens bilde fra Marigot Bay.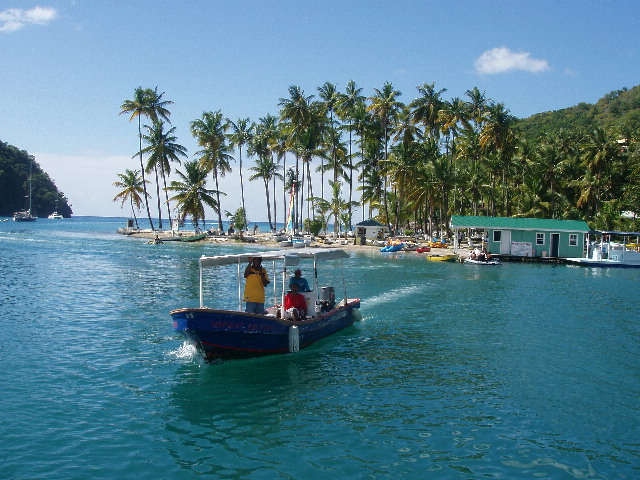 Sand-odden som skille den indre fra ytre delen av Marigot Bay.
The sand spit separating the inner and outer part of Marigot Bay.
English version
We have really had an experience-rich day today and our guests seem very pleased with the day. We ate dinner at a restaurant in Marigot Bay yesterday - it transpired that the owner's partner is Norwegian! We all slept well at anchor in windless and warm conditions interspersed with frequent showers - demanding frequent opening and closing of windows. After a refreshing morning swim and breakfast (finally a useful boat boy with fresh rolls!) we weighed anchor and sailed south back to Deux Pitons near Sourfriere where we stayed two weeks ago. We had a super sail down, doing over seven knots at times. We even saw a leatherback turtle! Arriving in the bay we were as usual met by lots of boat boys, but we made a deal with one to be "our" boy and send all others away apart from one with nice fruit which we bought for breakfast. After lunch the boat boy came as agreed and took us ashore to Soufriere - quite a long tour skirting land around the Piton. The ride was a super experience in itself. A taxi took us to the botanical gardens where there is also a nice waterfall in a beck which runs black with sulphur. We wandered in the gardens for an hour and a half admiring the many different flowers and plants. A good time was had by all.
Back in the boat we all needed a swim to cool down, and swam the hundred metres ashore and did some super snorkelling. While waiting for the sundowners we saw a dolphin jumping some way away, then a couple of cruise boats came in to look at the Pitons. There was a beautiful sunset and three of us saw the elusive green flash. Today's picture is from Marigot Bay.
---