Rodney Bay, St. Lucia

Nano's blog.
Nigel Anderson
Wed 24 Jan 2007 21:34
Date: 24-01-07     Time: 22:00 UTC      Position: 14:04.57N  060:56.94W   Name: Rodney Bay, St. Lucia 


Enda en jobbedag - i sterk sol slik at det ble litt av et ork å jobbe så veldig mye. Heldigvis hadde vi Elvis til å polere skutesidene og vi kunne konsentrere oss om mer tekniske oppgaver. Spinnakeren - som revnet på første dag av Altlanterhavsseilasen - har vi hentet fra seilmakeren i dag og fått pakket inn i strømpa si igjen. Vi har også bestilt litt duk til å lage sjøkøyer i kahytten for returreisen over Atlanteren fra samme seilmaker. Rønnaug har klippet håret mitt også på tampen av dagen for a avrunde dagens gjøremål. Det er egentlig ikke så mye spennende å skrive om på disse jobbedagene så jeg kutter ut vaset i dag og la dere nyte to bilder fra andre plasser enn Rodney Bay.
Vi fikk besøk av delfiner på turen fra St. Vincent til St. Lucia - her filmer Nigel aktiviteten foran baugen.
We were visited by dolphins on the run from St. Vincent to St. Lucia - here Nigel is filming the action off the bow.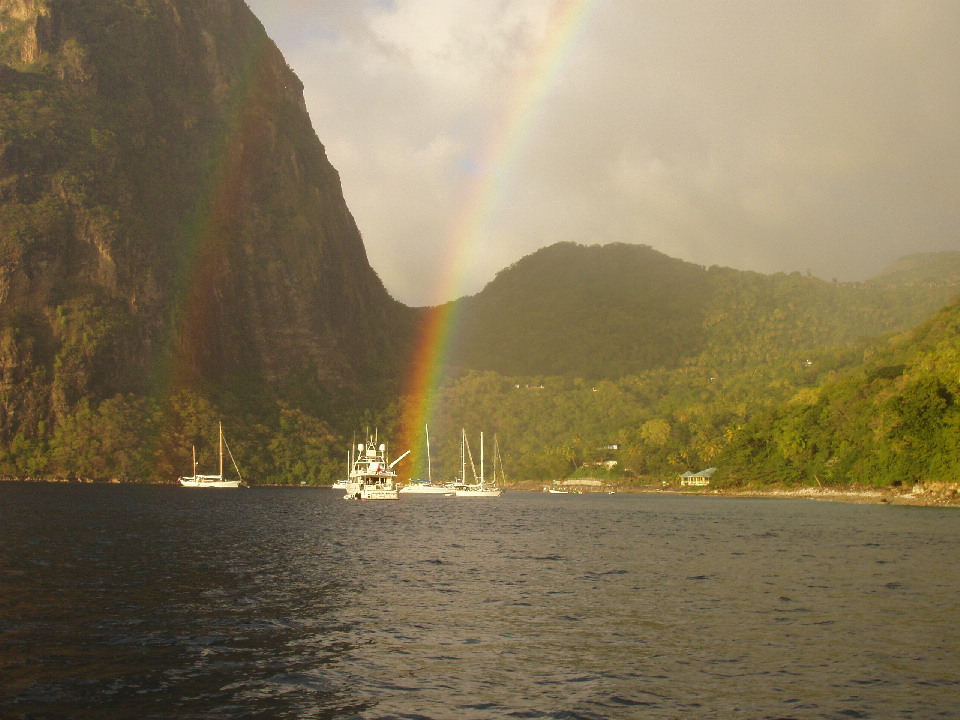 Dobbel regnbue ved bukta "Deux Pitons"
A double rainbow at "Deux Pitons"
English version
Another job-day today - in strong sun so that it was a strain to get things done. Fortunately the chandlers has air conditioning so one can always cool off when buying parts or polish. Fortunately again we had Elvis to polish the hull and stern. We got the spinnaker back from the sail maker and spread it out on the lawn to check the work and to get it back in to its snuffer sock. We have also ordered cloth to make see berths in the cabin from the same sail maker. To round off the day Rønnaug cut my hair. There is really not that much of interest to write about on these days when we are mostly working on the boat, so I will cut short today and serve a couple of pictures from places other than Rodney Bay.
---