Anse de Beautheaume, 10km W of Brest.

Nano's blog.
Nigel Anderson
Mon 17 Jul 2006 15:05
Date: dd-mm-yy     Time: 14:00 UTC      Position: 48:20.39N  004:41.71W   Name: Anse du Beautheaume, near Brest. 


Etter gårsdagens blog ble sendt inn, fikk vi en nydelig kvelds- og nattseilas. Vinden hadde løyet såpass, og dreid mer nordlig at vi kunne lage middag uten problemer med bølger, og hele turen inn ble en flott opplevelse. Vi hadde fyrtårn og navigasjonsmerker å følge med på passasjen "Chenal du four" mellom øya som ligger utenfor vestspissen av Frankrike (Ouessant) og fastlandet. Det var også en nydelig solnedgang og måneoppgang. Vi hadde også strømmen med oss - opp til 3 knop. Gunstig strøm her betød motstrømmen inn mot Brest, så vi bladde raskt gjennom los-boka, og fant en passelig bukt å ankre opp i. klokka var blitt halv tre (engelsk tid) da vi droppet ankeret, og kunne komme i senga. Vi sov til litt etter ti. Lufttemperatur 29C, vanntemperatur nå 19C - og vi fant ut at vi kunne like så godt bli her resten av dagen for å slappe av. Det er egentlig litt for varmt! Vi måtte trekke biminien (solskjerm) over cockpiten for å beskytte oss mod solen og varmen! Vi hadde ankret opp bare 100m fra noen ledige gjestefortøyninger, så vi har nå flyttet oss over til en av dem. En tur med jolle til land står på programmet nå. Siden vi har fortsatt mat og vann, blir vi her inatt, og skal inn til en by imorgen.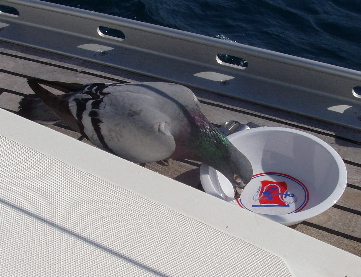 From yesterday - the tired pidgeon.
Fra igår - en sliten og tørst brevdue.
Overtaken by big French boat.
Forbikjørt av en stor frans båt.
Anchored off the sandy beach.
Ankret opp utenfor sandstrand.
English version
After the blog was sent yesterday evening, we had a lovely evening and night-sail, entering the Chenal du Four between the mainland and the Isle of Ushant. As the wind and waves had died away a little - but we were still sailing at 6 knots, we could easily prepare a lovely dinner which we ate on deck. The passage in to land was well lit and easy to navigate. We had up to three knots of current with us until we turned into the channel towards Brest, when the current was against us. Rather than slog up there by motor - the wind had died by this time, we found the first suitable bay to anchor in, and dropped the hook at two thirty, then hit the hay for a good nights kip. We got up just after ten to another fantastic day, but this time much much hotter. 29C in the air, 19 in the water. It transpired that we had anchored up just 100m from some visitors moorings, so we moved the boat over to one of these, then prepared the dinghy for a trip ashore. As we still have food and water, we will stay here tonight too, heading for a town tomorrow.
---