Viana do Castelo - Povoa de Varzim

Nano's blog.
Nigel Anderson
Tue 12 Sep 2006 20:24
Date: 12-09-06 Time: 18:00 UTC Position: 41:22.31N 008:45.89W Name: Povoa de Varzim


I går kveld gikk vi ut for å spise middag, og valgte det som så ut til å være en litt bedre restaurant. Vi valgte en av de dyreste rettene -T-bone steak, en bedre vin - en Dão fra 2001, samt "Farris", dessert og kaffe - alt for 28 euro! Du hadde ikke fått vinen for det hjemme i Norge! Den nordlige delen av Portugal er tydeligvis mye billigere enn Spania. Maten var forøvrig nydelig.
I byen der vi lå var det sol og varme i dag, og vi hadde ikke hastverk med å komme avgårde, så vi gikk opp til supermarkedet for å handle litt og titte i byen. Utvalget av mat var noe annerledes enn Spania - og ikke minst vinene. Her var det kun portuguesisk vin i hyllene, mens i Spania så man kun spanske. Ostedisken var likeledes - bortsett fra en edamerost (som antageligvis var laget i Portugal), var det ikke andre ostetyper som vi kunne kjenne igjen fra Frankrike eller Spania. Litt artig var det å lese kvitteringen - her sto det både prisen og moms-satsen. Her har de gradert momsen etter sunnhetsfaktorer. 21% betalte vi på portvin og sukker, 11% for vanlig vin og 5% for normale matprodukter. På golvet i butikkens fiskeavdeling var det tre paller med norsk klippfisk som tydeligvis er godt likt her i Portugal.
Vi dro ut fra havnen litt etter flere andre båter - men vi kom ikke lenger enn til den ytre havnedelen før vi var midt opp i en tykk tåke. Dette varte hele turen (20 sjømil) og vi så ikke mer enn 200m på det meste hele turen - så jeg kan ikke fortelle om kysten eller noe annet fra turen. Man blir ganske sliten av å glane inn i radaren og samtidig forsøke å følge med på det lille man ser foran båten for å unngå bl.a å kjøre på fikseutstyr som ikke kommer så godt frem på radaren. Får vi garn i propellen når vi kjører for motor kan det gå riktig ille. Det skjedde med en engelsk båt som måtte reddes av kystvakten i nord-Spania. Til lunsj hadde vi deilig norsk røke-laks og ferskt brød. Til middag i kveld står det en spansk bønnegryte med en spesiell og sterk pølse på menyen. Vi har vannet ut bønnene i 12 timer og vi skal bruke trykkokeren for første gang. Spennende!
Vi måtte navigere inn i havnen etter radaren, men kom helskinnet gjennom tåka og fant god plass i havnen. Vi ser de samme båtene igjen fra havn til havn samt noen nye. Litt gøy er det å høre kjente stemmer på VH radioen ute på sjøen også. I skrivende stund og to timer etter ankomst skinner solen igjen fra himmelen og livet er herlig.
Det øverste bildet viser pallene med norsk klippfisk, det nederste havnen i Viana do Castelo som ligger under en bro med både vei og jernbane som var designet av Hr Eiffel (somme man bak tårnet i Paris).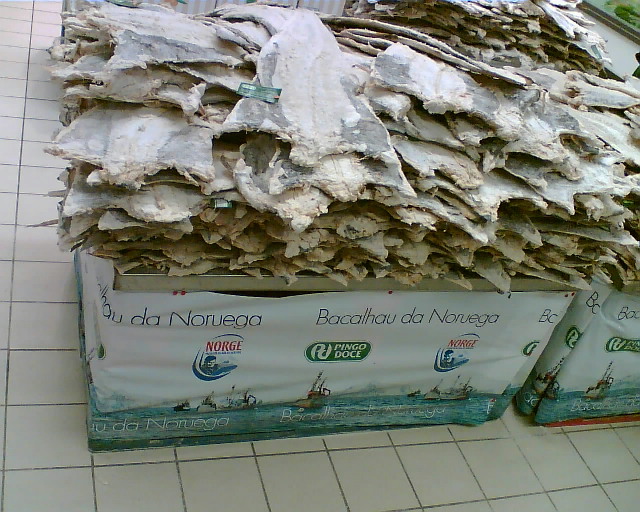 Norsk Baccalhau (klippfisk).
Norwegian stockfish in the supermarket.
Havnen i Viana do Castelo - under en bro designet ev Eiffel.
the harbour ar Viano do Castelo - under a bridge by Eiffel.
English version
We went out for dinner last night, choosing a quality looking restaurant. We chose one of the most expensive main courses - T-bone steaks, a good wine (a Dão from 2001), sparkling water, coffee and desert, all for 28 euros! You wouldn't even get the wine for that in Norway, but this was also much cheaper than in Spain. The food and wine were very good.
It was sunny and warm in the town this morning, we had no great haste to get away, so we had a leisurely morning with a trip to the supermarket. The choice of foods was somewhat different from Spain, though prices seemed very similar. Here there was just Portuguese wines on the shelves, the same in the cheese counter - we recognized an Edam (probably locally made), but otherwise just Portuguese cheeses it appeared. Interestingly the VAT rate is different according to how healthy the food is - a bottle of Port had 21% VAT, but wine was just 11% and ordinary foods 5%. Sugar however was 21%. In the fish department there were three huge pallets of Norwegian stockfish - clearly popular here.
We left the harbour just after several other boats, but got no further than the outer harbour before we were in thick fog - which stayed with us all the way down the coast to Povoa de Varzim, a little over 20 miles. We groped our way along the coast and through the harbour entrance on radar, and found a good harbour with plenty of space for us.
With poor visibility (200 m.) you get rather tired of constantly looking into the radar and at the same time look out for fishing gear that do not turn up on the radar screen. If you get a fisking net caught in the propeller this could cause a lot of damage. It happended to a british boat that needed resque from the spanish coast guard further up the coast.
For lunch we had delicious Norwegian smoked salmon and lovely fresh bread. And, on the dinner menu we have decided upon a Spanish bean stew with hot local sausage. We have soaked the white beans for 12 hours and we will try the pressure cooker for the first time. Hopefully it will be good!
The top of today's pictures shows the pallet of stockfish, the other the harbour which is under the bridge at Viana do Castelo - designed by Mr. Eiffel (of tower in Paris fame). This is a two storey bridge with railway on the lower deck, and a road on the upper.
---