Oppsummering av Frankrike. Summary of France.

Nano's blog.
Nigel Anderson
Tue 8 Aug 2006 18:39
Date: 08-08-06     Time: 17:00 UTC      Position: 43:32.80N  005:40.09W   Name: Gijón 


Jeg skal fortelle mer om Gijón imorgen, men siden jeg har skaffet trådløst internett i denne havnen, skal jeg sende litt flere bilder i en oppsummering av tiden vår i Frankrike.
Vi ankom Frankrike 17.7, og forlot landet 5.8 - tre herlige uker preget av godt vær, god mat og godt selskap. Vi har vært innom mange havner i et spekter fra naturhavner til større byer. Vi kunne valgt å kutte ut hele denne delen av Frankrike ved å seile direkte fra Brest over til Spania - turen ville vært ca. 24 timer lengre enn de to dager det tok fra La Rochelle, men med så god tid var det vel verdt å utforske denne delen av Frankrike.
Vi har sett så utrolig mange flotte plasser, og det er nesten litt vanskelig å huske alle. Minnene blir nesten som når man spoler fort fremover på en video eller DVD. Til tross for at vi har vært i Frankrike i 3 uker, føles det ikke slik. Vi må nok komme tilbake for å se litt mer av innlandet her i Brittany også neste gang.
Franskmennene er stolte av sin egen kultur, og flinke til å bevare den. Franskmennene oppfører seg dannet, og snakker lavt (ikke brautende som i visse andre land). At alle de små matbutikkene (bakeri, slakte- og fiskebutikker) overlever er jo fordi franksmennene liker dem og bruker dem. Og jeg kan forstå at de franske damene skjelden er i arbeid. Det er jo fulltids arbeid bare å handle og lage mat. De franske damene er nette og flotte og "tripper rundt" og oppdrar barn (på en utmerket måte) og handler og lager mat som det står respekt av. Her i Frankrike kjøper man skjelden halfabrikata og ferdigmat. Det er ikke spesielt billig å leve her nede totalt sett; husprisen og havnevagifter er dyrt, mat er litt billigere enn hjemme (utvalg og kvalitet er upåklagelig), mens vin er billig.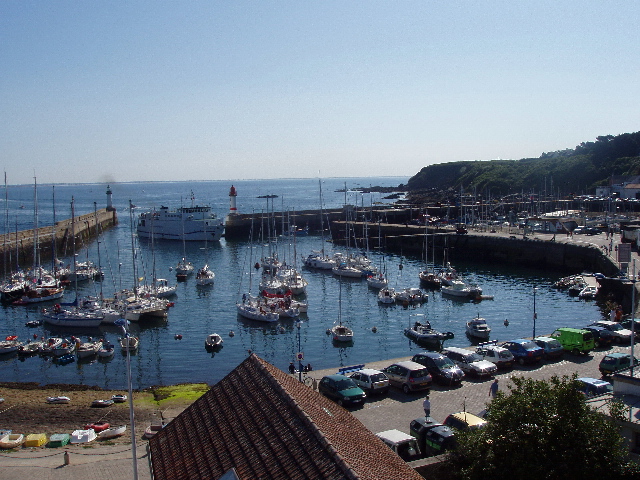 Small harbour, many boats, big ferries.
Liten havn, mange båter, store ferjer som kommer og går.
Long and sandy beaches, sometimes with a lot of people.
Lange sandstrender, noen ganger med mye folk.
Long and sandy beaches, sometimes with very few people.
Lange sandstrender, noen ganger med lite folk.
Harbour at Concarneau
Båthavn i Concarneau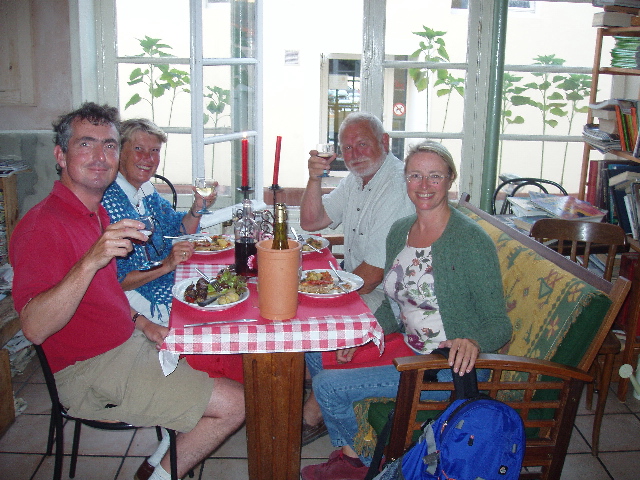 Good food and good company with Agnetha and Bosse at a back street restaurant La Chaume.
God mat og godt selskap med Agnetha og Bosse på restaurant i bakgatene til La Chaume.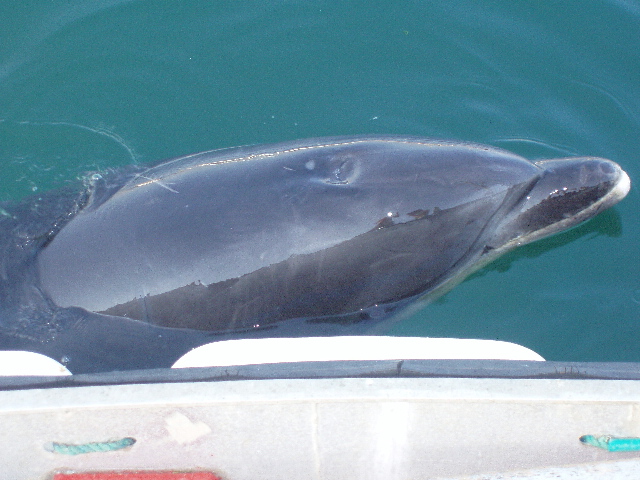 Dolphin
Delfin
Sun, book, G&T
Sol, bok, G&T
La Rochelle
Sunrise.
Soloppgang.
English version
I will write more about Gijon tomorrow, but now as I have arranged cordless internet access in this harbour I thought a picture based entry would be timely to summarize our three weeks in France.
We arrived in France on the 17.7, and left on the 5.8 - three delightful weeks notable for the good weather, good food and good company. We have been to many different harbours ranging from sandy bays a long way from nowhere, to large towns and cities. Many sailors with less time miss this delightful part of France by sailing straight over the Bay of Biscay from Brest to Spain - taking about 24 hours more than our two day run from La Rochelle. As we had plenty of time we could leisurely enjoy this fantastic coastline.
We have seen so many fabolous places. Now, the memories of the places feels like when you fastforward a video. Even though we have spent 3 weeks doing Brittany in France the 3 weeks just is not enough. At some point we have to come back and see more of the inland.
The French are truly proud of there culture and treasure it. By using all the small shops (bakery, butcher, and fish-shops) the old culture stay alove. That the French ladies seldom work is easy to understand. It is a full time job to shop and prepare all the lavish meals they serve. Down here they just don't go for prefabricated food! The total cost of living is not what you would call cheep. The house and harbour prices are rather high, food is a bit cheaper than at home (however the selection and quality is great), but the wine is really cheap.
---