Boat Lagoon sojourn

Scott-Free's blog
Steve & Chris
Sat 20 Apr 2019 20:12
Saturday 20th April 2019
In all honesty, I have to admit that not a lot got done over the four days of Songkran.  We did a few little jobs – Steve changed the fan belts on the engine and cleaned out the Separ filter bowl and changed that filter too.  I got the sewing machine out and made some covers for the new antennas on the pushpit.  We did a bit of cleaning and tidyng and sorting out and because the laundry was closed a couple of loads of hand washing. 
But mainly we just took it easy and enjoyed the peace and quiet.  Our new neighbours on Four Star, Michelle and Midge invited us to join them at the Lagoon Saloon in the marina  where they do a beer and burger deal, and we had a very nice evening exchanging yachtie stories.  We made use of the hotel swimming pool and had a meal at the restaurant – my first pork chop in months and it was delicious!  Steve enjoyed his steak, but was very envious of my pork chop, so he dusted off the barbecue, and next night I had pork chop for dinner again!
Looking across the marina.                                                                                          Scott-Free settled in Berth B16.
Boat Lagoon has a large hardstand area and two huge travel lifts.
Sadly they are too expensive for our budget.
Happy Songkran                                                                              Yummy!
Pork chops cooked on the boat barbecue.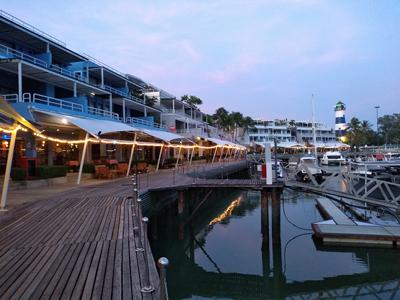 The Boardwalk
David the rigging surveyor arrived very early on the Wednesday after Songkran to carry out the survey as promised.  He found it to be in excellent condition and was hard-pushed to find any problems.  We were very pleased with this outcome as he also quoted us £6,000 for replacement.  One clevis pin, at the top of the topping lift, appeared to be too small, and he was happy to go back up the mast later to replace it.  Job done.
Having the rigging surveyed.
On Thursday we finally made contact with Cirrus, and Lawrence came to the boat the same day to see what needed doing.  As we already had the replacement gas solenoid, it would not be a big job, and he said his guy would be round the next morning at 09:30.  As this was our last job, we started making plans to leave the marina.  The solenoid would be done by lunchtime, so we would get a Grab to Tesco Lotus to stock up on supplies in the afternoon and leave on Saturday with the 10:00 high tide.  Perfect.
Except the guy from Cirrus did not turn up at 09:30, he came in the middle of the afternoon, scuppering our shopping plans.  So today we got a Grab to Tesco Lotus Extra – even Grabs here are very expensive; it was over £8 for a trip we would have expected to pay no more than £4 for – to stock up for the next couple of weeks exploring Phang Nga Bay and heading south again to Langkawi.  We were not terribly impressed with Tesco, we had thought they might have a wider range of stock but not so. And the price difference went nowhere near making up for the taxi fares.  Lesson learnt.  It meant that when we got back to the boat with the Tesco shopping, we had to go back out to the Villa Market on the marina to get the things we couldn't find at Tesco…
Eventually though we were stocked up and ready to leave, and as we had the evening free, we walked along to the Phuket Bike Week 2019 event that was being held in the marina complex.  It was buzzing! Hundreds of bikers had turned up and the road was double-lined with Harleys and Triumphs and some weird-looking custom machines that looked none too comfortable to us!  There were also American cars on show and a couple of rows of kiosks and stands as well as an arena which we didn't venture inside as it was 200 Baht each entrance fee.  We wandered around having a look, and then stopped for a beer and a kebab before heading home.
Double rows of motorbikes lined the road.                                                            American cars on show.
Superhero bike.                                                                                 The red carpet – just for us?
I looked after the beers…                                                               while Steve went to get the kebabs.
American cars seem popular here.                                            Paper lanterns in the trees lining the road.
---