Viani bay, above...

Scott-Free's blog
Steve & Chris
Thu 25 Jun 2015 18:54
Thursday 25th June 2015
The wind continued to howl for the rest of the day, yesterday, and so we hunkered down and chilled out and waited for it to blow itself out, which it eventually did late in the evening, giving us a much more peaceful night. When we woke this morning, peace had been restored with a calm sea and the very lightest of breezes. It turned out that the wind had not actually dropped at all, but just changed direction from South to South East, and was now being blocked by the three peaks on Taveuni, the neighbouring island. Thank goodness for that!
We decided we needed to stretch our legs, having not set foot on land since Monday, and so went ashore to explore. We were greeted on the beach by Jack, who explained how we could find the trail up the hillside, and off we set. After mooching around a bit, we eventually found a track behind the school, and with a mixture of walking and scrambling we eventually reached the top and were rewarded with magnificent views over the bay and of Taveuni across the Somosomo Strait.
Not this way – it's someone's front garden... Jack said the track to the right of the school, but this is to the left..
.
A peek through the window into the empty classroom. The Primary School – empty today as it's school holidays.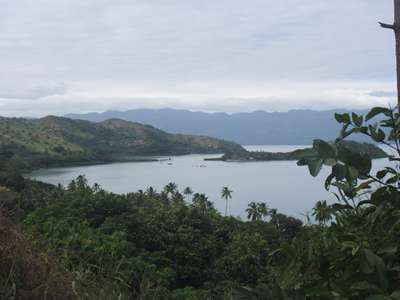 View of Viani Bay from halfway up, with Taveuni behind. And from the top. S-F just visible near the middle of photo.
Having taken our fill of the glorious view, we made our way back down – this time along a different path which gradually arrived at the scrambling track, which it appears we did not need to go up after all.
The steep path we scrambled up... ...and the gentle slope we ambled down.
---