Port Resolution, Tanna

Scott-Free's blog
Steve & Chris
Thu 1 Oct 2015 22:14
19:31.543S 169:29.769E
Thursday 1st October 2015
Distance run: 42 nmiles
An early start with the anchor up at 0640 for this day passage to Port Resolution, a bay on the east side of the island of Tanna. This bay was named by Captain Cook after his ship HMS Resolution on his visit here in 1774. He was attracted to the bay by the glowing light of Mount Yasur, the nearby volcano which is the target of our visit now, some 240 years later.
Soon after leaving the calm waters of Itchepthav Bay and its protecting reef, the sea became very lively, with huge waves coming from different directions and knocking us about somewhat. The forecast had been for winds of 10 knots or so, but there was not a breath of wind about and with no sails to lift us from the waves it was a fairly unpleasant trip. About 10 nmiles out, the waves reduced a little and were less confused which made it a bit more comfortable, but still no wind. As Tanna came into view, the tide turned and gave us 2 knots of extra speed towards the once more confused seas around the south of the island.
We were glad to arrive in Port Resolution mid-afternoon, and as we slowly entered through the narrow pass in the reef with the water shallowing to 4 metres below the keel, we wondered how Cook had managed to get HMS Resolution in here. Clearly the reef had grown and the bay silted up in the last 200 years! Mount Yasur seemed to be having a rest, as we had seen no sign of the volcano so far. We dropped the anchor, settled into a very pleasant spot and waited for the fireworks to begin!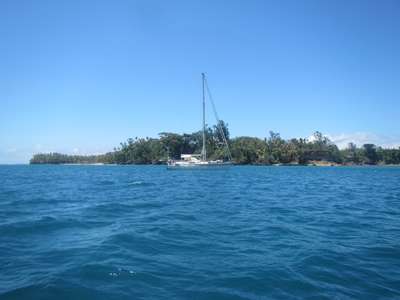 The flat sea in the anchorage was very welcome after a lively passage. S-F at anchor in the eastern side of the bay, near Port Resolution village.
---