Bronte Park Hydro Village

Scott-Free's blog
Steve & Chris
Sat 13 Feb 2016 22:47
Saturday 13th February 2016
Our next planned stop was to be Strahan on the west coast, where we had booked a trip on the Wilderness Railway on Monday 15th. This was one of the few things we had booked in advance as the railway only operates on certain days and we didn't want to miss it through lack of planning. So we had also booked a motel room for two nights in Strahan, arriving tomorrow.
It would be a drive of around 350 kilometres through the central highlands, and we set off this morning with no idea how far we would get today and therefore nowhere booked for tonight. There was no need to rush and we wanted the flexibility of being able to stop as and when something took our interest. As the day wore on it became apparent that we would probably make it as far as Lake St Clair, and so when we passed through a town with cell phone coverage we looked online for a place to stay.
Places around Lake St Clair were expensive, and so we settled on Bronte Park about 20 kilometres before. This turned out to be an interesting find. Bronte Park was built in the 1940's by Tasmania's Hydro Electric Commission as a construction village for the development of the Tungatinah scheme. Hydro construction had begun in the Central Highlands 30 years earlier at Waddamana, where the waters of the Great Lake were harnessed to provide power to Hobart. As demand for electricity grew, so did the number of schemes to produce it, and with them the need for construction workers to build them.
The workers for these power schemes were housed in purpose-built permanent and mobile villages, of which Bronte Park was one. Most of the homes have been removed from the village, but 19 cottages, the Chalet and a general store remain. The Chalet houses a pub, restaurant and motel-style rooms, but we stayed in cottage '9 England', which felt so much like an ordinary home that one of the workers and his family might have just moved out. It was like staying in a piece of Tasmanian history - we loved it.
Bronte Hydro Village was established in 1947 for construction workers. Cottage 9 England – very appropriate.
The 'front' door is sensibly under the porch at the side, which has plenty of room to keep a vehicle out of the sun.
Looking back down the drive towards the Chalet. The neighbouring cottage to our right – empty it seemed.
Sheep were roaming freely among the cottages. Beautiful highland countryside behind the cottage.
All rooms led off the central lounge. Two bedrooms off. Dining area, kitchen to left, utility room & toilet far left.
Two bedrooms. This was obviously a family home.
Basic and dated but fully functional kitchen.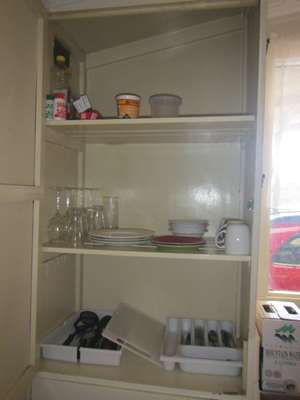 This built-in cupboard reminded us of our grandparents' kitchens, built before mass-produced fitted kitchen units.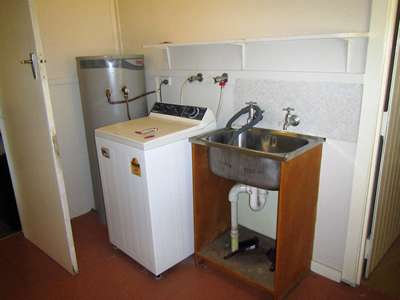 We could see light where the kitchen wall met the floor. The washing machine in the utility room came in very useful!
Not quite an outdoor dunny, but cold enough to feel like one! First time we've seen a bath for a long time. Tiles could do with a clean.
Logs stacked up ready for use – we regretted not doing so... Not sure if there was any significance to the country names.
In the central area of the village were some memorials to the construction workers.
'Lest we forget' World War 1 memorial, 1957, and one in honour of the construction workers and their contribution to Tasmania's HE schemes.
"Symbolic arrangement of old wheels found in the area". Artistic arrangement(?) of construction tools in a cement block.
What a wonderful piece of recent history. We really hope they carry out a system of maintenance work to prevent further deterioration and keep them just as they are. Refurbishment and updating would take away their essence and render them as just another motel. That would be such a shame.
---