Auckland

Scott-Free's blog
Steve & Chris
Tue 24 Dec 2013 12:51
Tuesday 24th December 2013
Having settled comfortably into our berth at Town Basin, we completed our conversion to 'landlubbers' by buying a car and camping gear, and were ready to begin our exploration of New Zealand by land.
First stop was Auckland, one-time capital of NZ and home to a third of the country's population.  Around 100 miles south of Whangarei, it was a pleasant two-hour drive, through stunning countryside.  The main State Highway 1 is, for the most part, a single carriageway road with short lengths of dual carriageway every so often to allow traffic to pass slower vehicles.  Very little traffic most of the way, a bit more as we approached Auckland and the road became a dual carriageway, but compared to driving in the burbs of London, very quiet indeed!
We had checked into a city centre hotel for the two days we would spend there, so that we could park the car and forget about it until we left.  When we checked in we discovered this would cost us $64 (£32), but at least it was secure parking.  We had to laugh at the hotel room – it was slightly larger than the bed, with nowhere to put bags or clothes.  The only hanging cupboard had a rail so high up that even Steve, who is 6' tall in his socks, could not reach!  And the cupboard door could only open halfway because it was stopped by the main door's closing mechanism.  On the plus side, we had a little kitchenette and a view, between buildings, of the harbour.  And if you ventured onto the balcony (it was a very small balcony and 16 floors up!) you could see the top of the Sky Tower.  Plus, it was right in the centre and everything was in walking distance.
I had no chance of reaching this rail!                                                       The top of the Sky Tower from our balcony.
We spent much of our first day in the Maritime Museum with its informative and interesting exhibits.  Here we read about the wreck of the Royal Navy steam corvette HMS Orpheus in 1863, New Zealand's worst ever maritime tragedy. It ran aground on the treacherous Manakau Harbour bar with the loss of 189 out of 259 lives.  We also visited the exhibit mounted as a memorial to Sir Peter Blake. The rest of our two days was spent wandering around and visiting some of the sights.  It is a clean and welcoming city, where we felt totally at ease, whatever time of the day.
The Sky Tower by day – we gave it a miss.                                            Steinlager 2 in the Viaduct Harbour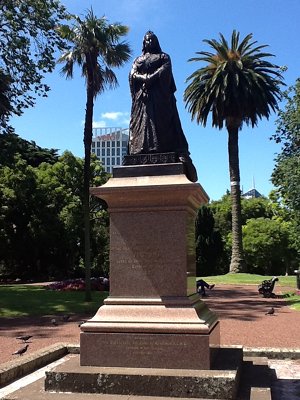 Guess who? In Albert Park.                                                                         The University clocktower.
A clock face in Albert Park.                                                                                                           The obelisk at One Tree Hill.
On our way out of Auckland, on our way to spend Christmas with old friends from the UK, Anne & Mike, we stopped off at One Tree Hill.  This is a volcanic peak in the burbs of Auckland which is an important memorial for both Maori and New Zealanders. Before settlers arrived, the high ground was a strategic place for Maori, with a population of some 5000.   The 'one tree'  that gave the hill its English name when settlers arrived is no longer there, having been chopped down, replaced, then chopped down again apparently several times.  The most recent chopping down was in 2000, and it has not been replaced since, mainly through indecision about what type of tree to plant.  The obelisk is a memorial to the Maori donated by Sir John Logan Campbell, thought of as the father of Auckland, whose grave it sits above.  The views from its peak are breathtaking, and it is possible to see Waitemata Harbour to the east of Auckland in the Pacific Ocean as well as Manukau Harbour to the west of Auckland in the Tasman Sea.  Stunning.
---