Selivri

Scott-Free's blog
Steve & Chris
Sun 21 Jun 2009 07:44
The only worthwhile thing about Ataköy was its fuel berth which was an easy alongside stop - oh, and being able to hose down the boat. The water, however, was not potable - that price and you can't even drink the water! We filled up anyway because we have a Seagull filter which takes anything horrible out of the water so for us the water quality is not a problem. We have a dedicated drinking water tap in the galley which the filtered water comes through. Water for washing up and washing ourselves we don't bother to filter, except for an inline filter in the hose that takes out larger particles.
Anyway, we left Ataköy with a shiny clean boat and full fuel tanks, and headed for Silivri, about 30 miles along the North coast of the Sea of Marmara.
What a lovely place it is! So different from last night's stop.
We arrived in the harbour and were looking around for a space, when a guy on the fishing quay waved us over. We went bows to between the little fishing boats, and the guy helped us tie up so that there was still room for his friend's boat when it came in. He tied us to his own little fishing boat just to make sure we left enough space. We invited him on board for a beer, which he readily accepted, and stayed for another! He had little English but with our little Turkish we managed a conversation of sorts.
S-F amongst the fishing boats and nets She stood out a bit!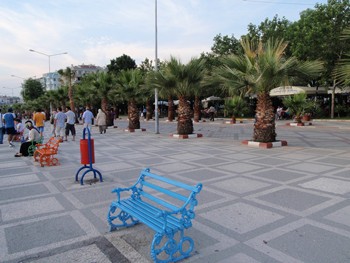 The prom at Silivri - very clean &well-kept
We found a supermarket just back from the harbour and stocked up, then had dinner at a waterfront restaurant before retiring for a good night's sleep, interrupted only by the local cats leaping about on deck in the middle of the night!
This harbour we would thoroughly recommend!
---