Langkawi coach trip

Scott-Free's blog
Steve & Chris
Mon 27 Nov 2017 21:06
Monday 27th November 2017
The Sail Malaysia Rally organisers had laid on a coach tour of Langkawi, so we hopped across on the little Rebak ferry and were picked up at the dock. It turned out to be a good day. We drove across the island to Kuah, the capital, where we visited Dataran Lang, also known as Eagle Square. The 12-metre tall statue of an eagle about to take flight was built as an emblem of the island. According to folklore, Langkawi's name came from two Malay words – 'helang' (eagle) and 'kawi' (reddish brown).
The 12-metre tall statue of a brown eagle about to take flight stands on the waterfront at Kuah and is an impressive sight.
We went next to the cable car which took us up to the skywalk on Mount Mat Cinchang, Langkawi's second highest peak, and 2,300 feet above sea level. At the first station, 600 metres up, we changed to a second car which took us to the top. The views were stunning.
Cable car ride to the top.
The island of Langkawi is 550 millions years old. The skywalk.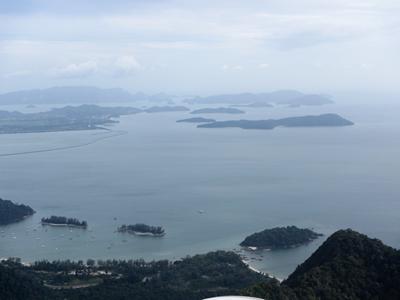 Looking over Telaga harbour to Rebak Island. Looking over Langkawi towards mainland Malaysia.
On the way back we stopped at a gamat oil factory. Gamat is Malaysian for sea cucumber, and it is believed here that their oil has great healing properties for all manner of ailments. Having pretty much captured all the sea cucumbers in local waters, they now import them from Thailand, and then boil them in huge containers for three days to extract the oil. We were shown the large pans full of boiling cucumbers, and were told that we could dip a finger in the boiling oil and it would not burn. We declined the invitation. When we wandered around the shop afterwards we saw hundreds of different bottles of oil, blended with all kinds of things, the labels listing a whole heap of ailments and conditions with which they could help. We didn't buy anything, but were greatly amused by reading the labels and smelling the wares.
In the evening we went to the last dinner of the Rally in a restaurant that was literally in the middle of paddy fields. The food was good and the entertainment was entertaining, but there were only soft drinks, so the men went off to a tourist bar around the corner and came back with beer. It was a good evening.
We watched traditional Malay dancing. And watched some of the audience participate.
---