Day sail to Komodo Island

Scott-Free's blog
Steve & Chris
Fri 8 Sep 2017 21:48
08:27.04S 119:26.915E
Friday 8th September 2017
Distance run: 27 nm
We left Rinca Island at lunchtime and motor-sailed between the islands of the Komodo National Park.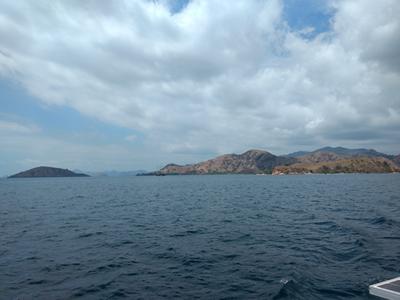 Leaving the anchorage at Rinca Island. The Komodo National Park has many islands.
The currents between the islands were very strong with eddies that turned the boat this way and that, so much so that Steve hand-steered much of the way as the auto-pilot response was too slow to stop us veering off towards the hard bits!
We arrived at Loh Serau, Batu Montjo on Komodo Island late afternoon, and were soon settled in the cockpit with an anchoring beer. The surrounding hills were very dry and barren, and there was no sign of a dragon on the beach, although we did see a wild boar sniffling around on the water line. Too late to snorkel on the reefs today, but something to look forward to tomorrow.
The hills surrounding the anchorage on Komodo, the island from which the dragons get their name.
---