Brenda's 50th

Scott-Free's blog
Steve & Chris
Thu 30 Jul 2015 22:38
Thursday 30th August 2015
As we had arrived too late to do any formalities yesterday (and the dollar bar had beckoned), we went ashore this morning and joined the Musket Cove Yacht Club ($5 for the skipper, $10 each crew member for lifetime membership – to qualify you had to have sailed here from another country). This gave us use of the facilities ashore in the resort – showers, laundry, rubbish disposal, supermarket, beach, restaurants, pool etc. We also opened an account at the resort so that we could charge expenses rather than pay cash, which we had in limited supply until we could get to an ATM, the nearest of which was on the main island.
We had two huge bags of washing which we left at the Yacht Club office for collection by housekeeping. This would cost $29 per bag and would come back clean, dry and folded the next day. The alternative was to wait my turn to use the two rather ancient washing machines and then driers at the laundry, at a cost of $10 per wash and a further $10 per dry. The saving of $9 per bag to spend a couple of hours doing it myself just didn't seem worth it.
We wandered around the resort to see the facilities, and found a fairly well-stocked supermarket where we could get basics and some 'luxury' items like blue cheese and bacon, and a limited range of fruit and vegetables at varying degrees of freshness. We stocked up on a few things for the boat and some for the birthday barbecue later. We also found a cafe with a decent coffee machine and a whole chiller cabinet of cakes. We succumbed to temptation and had coffee and cake as a treat.
Back at the boat I set about baking a birthday cake for Brenda and making a '50' decoration for the top, and preparing salad for the pot-luck. The dollar bar – a very old name as no drinks cost that little anymore – has 'dollar-in-the-slot' barbecues for general use, and this works well for groups of yachties – the men gather around the barbecues with their drinks and the women stay put and chat, the rest of the meal already prepared. Works for me.
There was quite a turn-out to help celebrate Brenda's half century, and in such a lovely setting. As the evening wore on, the wind piped up a bit, and the party relocated to State of Mind, where we sang 'Happy Birthday' for a second time as Brenda cut the cake made for her by Fran of Red. This was an unusual cake, being chocolate and chilli – I'm not sure I was keen on the chilli – I'd have to try a lot more to decide...
Brenda chose a beautiful setting for her 50th birthday... even more so at sunset.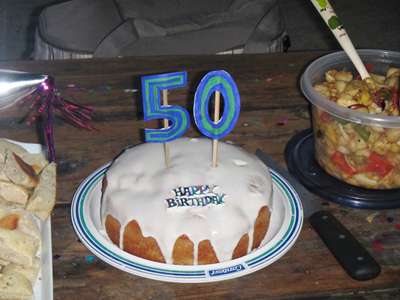 Rather wonky numbers, but the thought was there! Making a wish as she cut her first cake of the evening.
---