Bye bye Barbados

Scott-Free's blog
Steve & Chris
Tue 18 Jan 2011 10:35
Tuesday 18th January 2011
We have enjoyed our stay in Barbados, rolly & windy anchorage notwithstanding!
On Friday the 'boys' set off for a tour of the Mountgay Rum factory whilst the 'girls' had some peace and quiet on their respective boats. We thought they would be back soon after lunch, but of course they eventually arrived back after 4 p.m. sporting evidence that they had indeed sampled the produce! The proposed visit to Oistins to sample the fried fish was postponed till the following evening...
Steve & Rob looking a bit like Bill & Ben at the Mountgay Rum factory
On Saturday Bob & Lin came to the boats on a fact-finding mission. Well, they were invited for lunch,but as they plan to sail their own yacht, which is at present over-wintering in Marmaris, Turkey, to the Caribbean, it was an ideal opportunity to pass on what we had leant. We started with coffee on board Serafina and then all moved to Scott-Free for lunch. As Bob & Lin had an evening do to go on to, they left late afternoon, and we made the postponed trip to Oistins where we sampled the rum punches as well as the locally-caught swordfish, flying fish and mahi mahi (which the locals call dolphin fish.) We went by taxi but decided we would get the bus back, and had an interesting journey in a minibus with loud reggae music and a ceiling light that constantly changed colour!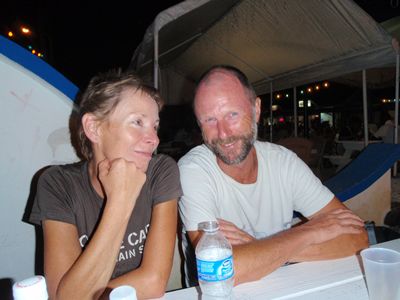 Grilling the fish at Oistins Rob & Sarah after only one rum punch, so far...
We had a lovely day on Sunday. Bob & Lin picked us all up and took us to the beach at the bottom of their road. It was idyllic - just as you picture a Caribbean beach - imagine having it at the end of your road! We all had a swim (well, a wallow!) and relaxed on the beach for a while, before heading on to their place for sundowners around the pool. Then Lin fired up the barbecue and we enjoyed a delicious supper.
The beach at the bottom of the road... ...and sundowners in the pool at Bob & Lin's.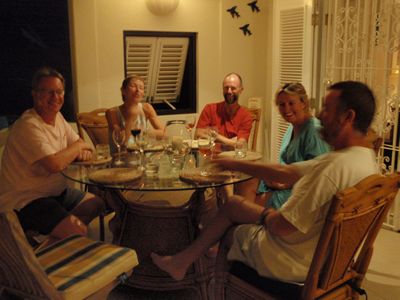 Barbecue supper... ...beside the pool.
On Monday we hired a car and set off with a possible itinerary, the actual one depending on how many times we got lost. Actually we did very well navigation-wise, but had to change the itinerary because of rain! It absolutely bucketed down after lunch which meant we had to cancel the visit to the tropical gardens. However, we did visit St Nicholas Abbey, an old plantation house, had a stroll through Speightstown, looked at the view of the east coast from Cherry Tree Hill and had a nice lunch at the Atlantis Hotel overlooking the sea. Later we went shopping in a huge supermarket where it was most odd to find Waitrose products in among the local stuff. Needless to say I stocked up well with Assam tea bags which I haven't been able to get since Gibraltar!
Wind sculptures in Speightstown. St Nicholas Abbey, an old sugar plantation house.
So, to today, and this morning we have been getting the boats ready for sea again. Steve went off with Bob who had very kindly tracked down Tele Barbados and asked them if they could crimp a new fitting to the end of our wifi cable - they had to drive halfway around the island to track down one of their vans doing an installation at a big house, but very typically of the Bajans they were more than happy to help. They had previously tried every computer and electronics shop on the island and were eventually told "Hey man, that's hard core" and to try the national company that fit wifi systems to houses! (For the technically minded it is a male N-type crimp for LMR400 cable.)
Then Steve posted off our poor binoculars which had sprung a leak to the manufacturers in the Nederlands, and we all met up for a farewell lunch in Cave Sheppard's buffet restaurant. Lin managed to make it from her Mah Jong game just in time and it was nice to have the opportunity to say 'Thank you' to this lovely couple for whom nothing was too much trouble and who really made our stay a hugely enjoyable one. We hope to see them again on Isle Jeudi in the Caribbean sometime.
Then it was back to the boats and a wait for the worst of the rain to stop before weighing anchor- fortunately neither of us had any problems with this and soon after 1700 we were heading out into a murky sea bound for St Lucia, just ahead of the departure of Queen Mary 2 who had stopped here again on the way from New York on a world cruise.
The Queen Mary 2 making ready to leave Bridgetown harbour.
---