Mourilyan Harbour

Scott-Free's blog
Steve & Chris
Wed 14 Jun 2017 21:44
17:36.372S 146:07.509E
Wednesday 14th June 2017
Distance run: 23 nm
Another short run today of just 23 nmiles up the coast to a completely different type of overnight stop. Mourilyan Harbour is the site of a bulk sugar terminal, which comprises sugar and molasses handling and storage facilities and a wharf with a sugar loader. We were not expecting it to be picturesque, and we were not wrong. However, if one turned one's back on the sugar terminal, the view was of green hills and not at all unpleasant, and the anchorage was surrounded by mangroves.
This north cardinal buoy should be bright yellow and black! The sugar and molasses storage and handling facility at the wharf.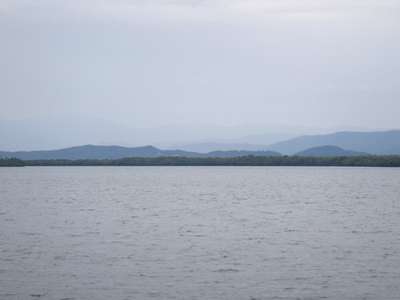 The view over the hills across the harbour from the sugar terminal. We were anchored just off the mangroves in very shallow water.
The weather was again quite inclement, but there was very little noise from the terminal – in fact there was more from the wildlife in the mangroves - and so once the anchor was down and we were settled, we enjoyed a peaceful and relaxing afternoon and evening on board. The main purpose of this stop was to shorten the onward journey to Fitzroy Island by 20 nmiles to make it a more comfortable day sail, and this calm and quiet anchorage would do just nicely.
---