Sydney Harbour Icons in Lego

Scott-Free's blog
Steve & Chris
Mon 21 Dec 2015 19:12
Monday 21st December 2015
We had one museum entry left on our Pass, so we set off for the Museum of Sydney. First stop, the Sydney Harbour Icons Lego exhibition – not because we are mad Lego fans, but because we reasoned that the earlier we went, the fewer kids we would have to knock out of the way... Only joking, of course! The models were actually quite impressive, the main ones being the harbour bridge, the Opera House, Luna Park and a cruise ship. One does have to wonder about grown men playing with Lego for a living, though.
Outside the Museum of Sydney. The harbour bridge.
The bridge with Lego fireworks.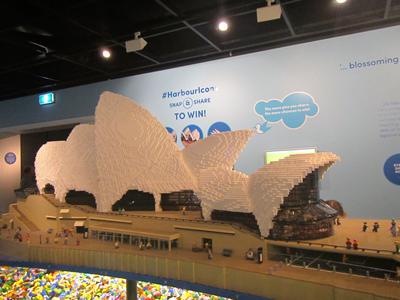 The Lego Opera House is nowhere near as elegant as the real thing! The other side – an interior view.
Bit of cheating with non-Lego components on Luna Park.
Is this Ryan guy – the "Lego certified professional" - for real?!
Didn't get a shot of the cruise ship but got this tug... and of course this yacht! Part of the cruise ship behind.
We enjoyed looking at the models, but declined the invitation to have a go at building one ourselves. On to the rest of the museum.
---