Catching up with old friends

Scott-Free's blog
Steve & Chris
Sun 19 Jun 2011 16:29
Saurday morning started with breakfast at the yacht club, where we were given maps and guides and some pointers on where to begin our sightseeing. Then it was back to the boat for a tidy up and to decide what to do with the rest of the day. A phone call to Martin & Trudy soon had this decided, as we arranged for them to come for drinks on the boat and then we would go back to theirs for dinner and stay over. Sightseeing could wait a day, as the boat needed a good tidying up if we were to have visitors!
Having collected them in the rib, we gave Martin & Trudy a tour of the boat (takes all of two minutes!) and then enjoyed drinks in the cockpit before setting off for their house,some twenty minutes away by car. We had an extremely enjoyable evening catching up on news and reminiscing, hearing about their lives in the US and sharing some of our sailing experiences. They have a lovely house and we stayed in the guest suite downstairs which was rather luxurious!
Martin & Trudy on Scott-Free Their house in the Washington DC suburbs
Martin & Steve catch up on news of mutual friends The guest suite...
with a very comfy bed - we slept like logs!
As it had been a late night, we were none of us up very early this morning. Martin made breakfast of scrambled eggs with salmon, and then gave us a lift to the Metro station so that we could get back to the boat. There is a marathon on in the city today and it would have been impossible to get back in by car as many roads have been closed off, so we had our first experience of public transport, which proved to be easy, cheap and comfortable.
Safely back at the boat, we dumped our bags and decided to go for a walk up to the National Mall and get our bearings a bit. The National Mall is ten minutes' walk from the boat, and is a long grassy area lined on both long sides with museums of the Smithsonian Institution and on the short sides by the Capitol at one end and the Washington Monument at the other. We really couldn't believe our luck in being able to anchor in a sheltered stretch of water this close to the centre of the nation's capital. The next few days will be busy as we take in the sights.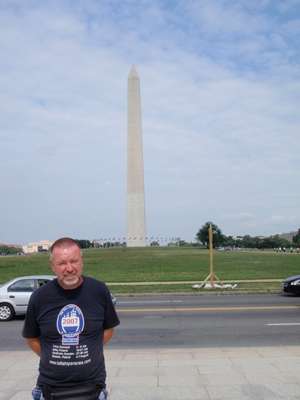 The Capitol stands at one end of the National Mall... ...and the Washington Monument stands at the other.
The Smithsonian Castle on Independence Avenue backs onto the National Mall
and serves as an information centre for the museums of the Smithsonian Institution.
---