Tearavero village, Kauehi

Scott-Free's blog
Steve & Chris
Thu 4 Jul 2013 04:15
Thursday 4th July 2013
The tiny village of Tearavero is the only settlement in Kauehi, in the North-east corner. From what we saw, the population figure of 200 is most probably an overestimation. The village consists of several houses, a church, a shop, a town hall and a school. There is a fire tender, necessary to allow light aircraft to land at the small airstrip, parked beside the firefighter's house. One concrete road runs the length of the village, with dirt roads off and parallel to it. It seems an idyllic place to live, but I think I'd get bored before too long! There are satellite dishes in evidence, though, so I suppose watching TV is a popular pastime.
The village of Tearavero, Kauehi The landing jetty and church.
The main road through the village ...and in the opposite direction.
The school the town hall
The power station A dead truck – what else can they do with them when they die?
Local water transport – an outrigger sailboat The fire tender
It appears that the village is run by the mayor (not sure if he was elected?) and his wife runs the only shop. She also took us to their house to show us, and sell if we were interested, some black pearls from their pearl farm.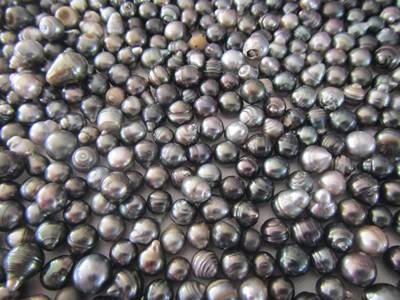 Negotiating a price for some pearls. Lots to choose from, but the best have already been sent to Tahiti.
We stayed a few days anchored off the village and rode out a very windy and lumpy night as a weather system passed through, turning the wind around to the North west, the only direction we had no protection from. All was well until the anchor snubber snapped with an almighty bang and we had to go out on deck to tie lines on the anchor chain to prevent any strain on the windlass. Thank goodness Steve is a dab hand with a rolling hitch and we managed to get two strong lines on and take them back to the midship cleats where they held us fast till it all died down in the morning. Alan from Tuatara had his SCUBA gear on next day as they had also lost their snubber in the night and he kindly spent a good half an hour searching the sea bed for our lost hook and rubber snubber. No luck unfortunately, but we have a spare on board, and the first job of the day was to make a new snubber.
Two lines held us fast during a lumpy night.
---