A stitch in time

Scott-Free's blog
Steve & Chris
Thu 23 Dec 2010 19:16
16:42.31N 29:28.72W
Thursday 23rd December 2010
Distance run in 24 hours: 139
Total distance run: 268
Distance left: 1762
A good day's run to midday of 139 miles - a few days like that and we will be there in no time.
Not many of those miles were added this morning though as we started the day by attempting to put in place the poles that hold out the headsails when we run downwind. The wind has been edging ever closer to our stern, making it difficult to maintain a decent heading when sailing on a broad reach., so by poling out the headsails we can run directly downwind and stay on course.
Not an easy task, but we had the first pole fitted and ready to be raised when Steve noticed some threads hanging loose on the yankee, the smaller of the headsails. Closer inspection revealed that the stitching holding on the sacrificial strip on the foot of the sail had deteriorated and some of the fabric was hanging loose.
Then the fun began. We had to get the yankee down and back to the cockpit, where we both spent the next four hours stitching the sacrificial strip back into place. Then we had the extra excitement of getting the yankee back up again, before setting up the whisker pole. Fortunately the winds were light and the sea fairly calm, so working on deck was not too difficult. (Yes, worry warts, we did wear our lifejackets and harnesses and were safely clipped on all the time we were on deck)
We eventually got the headsails poled out at about 1600, almost a whole day's work. We're both very tired, but satisfied with our handiwork. We had the sails checked over in Marmaris in April, so were a bit cross to discover the degraded threads, but equally annoyed at ourselves for not getting the yankee checked again in Lanzarote before leaving as we had the genoa.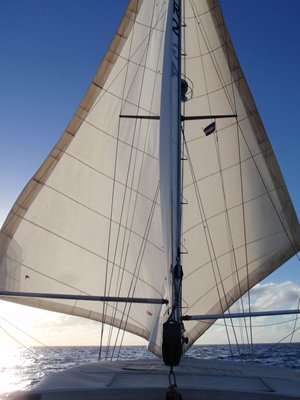 Both headsails poled out. The whisker pole and the repaired sacrificial strip on the foot of the yankee.
We are now sailing along nicely at about 5 knots in fairly light winds.
---