Achutupu

Scott-Free's blog
Steve & Chris
Sat 15 Dec 2012 20:37
09:11.573N 77:59.377W
Saturday 15th December 2012
Distance run: 20nmiles
After a pleasant and relaxing couple of days at Isla Pinos, we set off along the "inside route" through the San Blas archipeligo. Once inside the lines of reefs that shelter the islands from the Caribbean Sea, it's best to stay inside until reaching the Central San Blas Islands where there is a deep water channel in/out. It is possible to enter at other points, but inadvisable given the lack of charts for the area and the abundance of reefs.
This first leg was mostly in deep water, but first we had to pick our way through the gap in the reef out of the anchorage. We did this slowly and with one eye on the forward-looking sonar and the other on the water where the colour gives a good indication of the depth and where the reefs/shoals are. The water here seems to be rather murky, but when the sun is out the reefs show up clearly. If waves are breaking over them they are even easier to identify.
With very little wind we motored from waypoint to waypoint, monitoring depths and keeping a sharp lookout ahead, and arrived at our destination around 1300, with the sun high in the sky and conveniently peeking out from behind clouds just when we needed it. Although this area is not well charted, we are using Bauhaus's Panama Cruising Guide, and we found his charting and waypoints to be very accurate. The Navionics software charts on the Raymarine chartplotter bear no resemblance to reality, so we have to ignore them when they show the boat sailing over land and just use the waypoints. A little disconcerting, but okay once you get used to it. Many of the islands we passed are not even on the chart. We entered the Achutupu anchorage through a narrow channel between the mainland and a small island, and had deep water all the way through. We did a quick sweep of the anchorage and found some shallow shoals, so anchored well away from them in a very pleasant and calm bay. Several Kuna men were fishing from their dugouts and waved a cheery greeting as we passed, then got on with their work.
We were soon visited by a Kuna teenager and three children in a dugout who could speak no English, but seem to have come to ask if we wanted to buy any molas. These are pieces of needlework which form part of the traditional clothing of the women, and are reverse applique. They start with a whole piece of fabric - sometimes several layers, and then they cut bits out and neaten the edges, to make a pattern or sometimes a picture. The stitches are tiny and almost invisible and must take many hours of work which must be very demanding on the eyes. We couldn't really communicate, so gave them some sweets and fruit, and they went away happy.
Shortly after, another dugout appeared, this time with several women who had brought some molas with them. These had been made into items of clothing though, and as the Kunas are small in stature, would probably just about fit our ten-year-old granddaughter. We indicated that we would like to see some molas that were not part of clothing - I want to make some into cushion covers for the saloon - and off they went, to be replaced half an hour later by a young lady and her Granny. They had lots of molas and we picked through them till we found two we liked. Here they are:
Steve chose this one... ...and I chose this one.
Every single edge of the fabric between the colours has been handstitched, but it is almost impossible to see the tiny stitches on the right side. They asked for US$10 each and we offered US$15 for the two which Granny accepted straight away. They were also happy to have their photographs taken.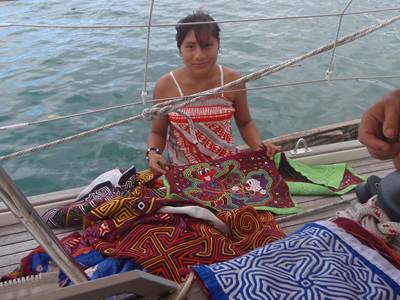 The younger Kunas wear modern clothing. The older Kunas wear traditional clothes - Granny has a mola on her back.
We had no more visits, not even for an anchoring fee, and settled down to a very pleasant evening. There was not a sound to be heard from the Kuna village on the island, and only a couple of lights could be seen ashore. Presumably the ladies only sew their molas in the daylight.
---