Isla Pinos (Whale Island)

Scott-Free's blog
Steve & Chris
Fri 14 Dec 2012 17:44
Friday 14th December 2012
Our landfall in the San Blas islands was at Whale Island, so called because of its shape when seen from seaward. It has apparently been used as a landmark and safe landfall for centuries because it is easily identifiable from a distance and has a straightforward entry. In the days before charts, this would have been invaluable. In 1571 Sir Francis Drake used the bay while planning an attack on Nombre de Dios, and various other privateers and pirates have made use of it over the centuries.
One can understand why it was named 'Whale Island'. 'Scott-Free' at anchor in the protection of Whale Island.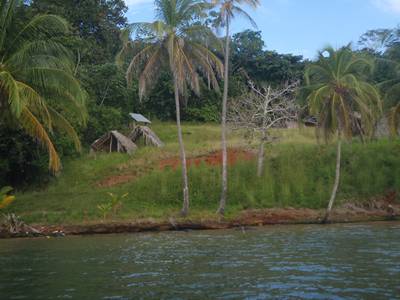 The Kuna village of Mamimulu on the south west corner. Village of the dead - Kunas are buried in huts. The site is sacred.
---