Fort Pierce, Florida

Scott-Free's blog
Steve & Chris
Sun 11 Dec 2011 20:46
27:27.865N 80:18.568W
Sunday 11th December 2011
Distance run: 344 nmiles
It was nice to leave Charleston in the daylight and we had a lovely view of the harbour. Passage out of the inlet was uneventful and nowhere near as lumpy as Beaufort. We have learnt that we need to know what kind of swell is running as well as the wind and tide information when passing in or out of an inlet, which is obvious really, but not something we thought about at first.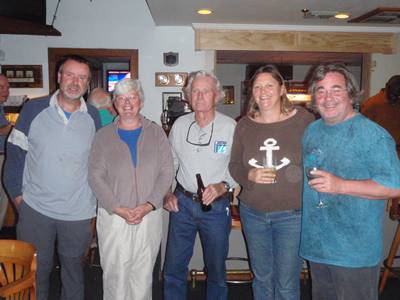 Goodbye to Charleston… and to Emmett (centre) and the Charleston Yacht Club.
The wind was inconsistent and we spent a few hours swapping from sailing to motoring, and then a better wind kicked in and we were able to sail overnight. By morning, though, the wind had become light and variable and so we put the engine on and donked for the next twenty-eight hours. As we passed by Fernandina Beach (St Mary's inlet), we decided that although we were motoring we were making good progress and so should continue further south. Around lunchtime yesterday the wind picked up again and we were able to sail for a while, but eventually put the engine on as well in order to maintain a speed that would get us to the inlet at Fort Pierce at an appropriate state of the tide to get in.
As we passed along the coast around Cape Canaveral we could just make out the Kennedy Space Centre. We decided not to stop here, either, but to press on.
The space centre from 20 nautical miles offshore!
The weather deteriorated during the day and we both stayed on deck to deal with the squalls. We arrived at the Fort Pierce inlet around 2100 and began picking our way in using the leading lights and lit buoys. Entry was straightforward and reasonably calm, and we were really glad to be making for the anchorage. However, disappointment reigned as we discovered that the charted 8' depth in the anchorage was a joke, and we could not get in there, even at high tide, so we had to look around in the dark for somewhere else to go. Thoughts of going back out to sea entered our heads, but simply made us more determined to find somewhere to drop the hook! Eventually we found a spot just out of the channel inside the inlet, dropped the hook and went to bed. We would sort out a better spot in the morning.
---