Landlegs

Scott-Free's blog
Steve & Chris
Sat 25 May 2013 03:47
Friday 24th May 2013
It is definitely the rainy season! For the last two days it has alternated between pouring very heavily with rain and blowing a hooley! We have not ventured off the boat, but have been doing boat jobs and catching up with some sleep. It has rained so hard that the water has been very brown, and all sorts of plant debris has been floating past the boat.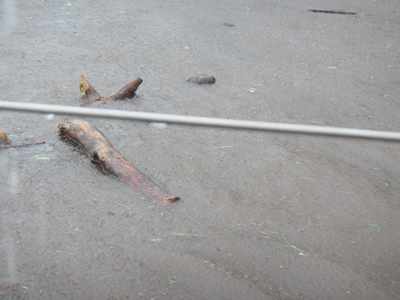 The rock formations at the head of the bay - and brown water! Logs floating past the boat.
More rock formations that surround the bay.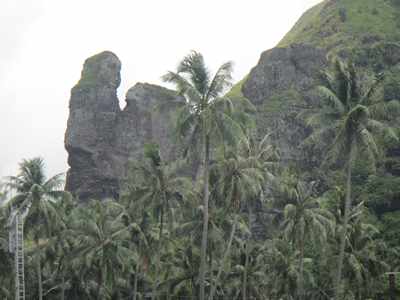 We can see why early explorers called it the Bay of Phalli. S-F looking decidedly dirty after her long passage.
Yesterday evening the wind really picked up and one of the boats dragged anchor, causing quite a bit of havoc in the anchorage. We were fortunate to avoid involvement, but Sheer were not so lucky as the boat in question broadsided their bowsprit before running along their side. Fortunately they only suffered a few scrapes in their paint and a gouge in the gelcoat.
We were visited by the French Polynesian Customs who kindly sealed two cases of our beer and some wine into a bin bag and told us we were not to open it until after we have left the country. Charming! No matter, they left enough open to see us through.
Today the rain and wind finally died away long enough for us to venture ashore. There is a small community on the island, and today we were lucky to see them do a dance display. There is a ship that comes to the island every two weeks that brings supplies and also carries tourist passengers, and it was for these tourists that the display was laid on. We watched the dance and then wandered up the concrete main street to take a look at the village, which consisted of a church, school, shop, craft shop, a couple of community buildings, and some houses.
The church The main street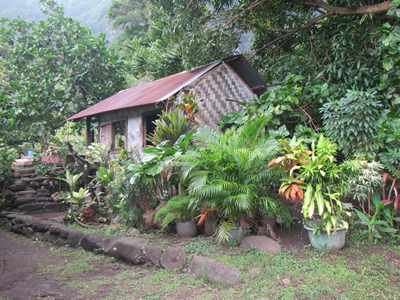 A traditonal woven building. A place of worship.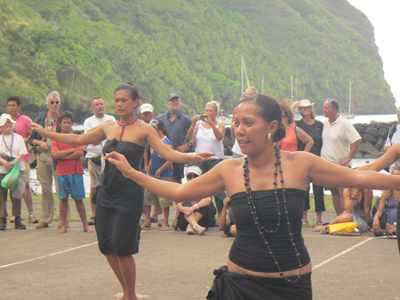 Dancing was to the beat of these drums. A lot of hip wiggling was involved.
It was interesting to see that both the group of dancing women and the men who played the drums consisted of a wide age range, with three generations easily represented in both.
It was good to get off the boat after twenty four days and to stretch our legs. They soon became tired though, and I wasn't too upset when the first downpour of the day cut our wanderings short and we headed back to the boat. Enough excitement for one day.
---