Around Martinique

Scott-Free's blog
Steve & Chris
Fri 11 Feb 2011 00:49
Friday 11th February 2011
After a couple of days of trying to get the generator battery sorted (I'll let Steve fill you in on the technical details), during which we didn't get an opportunity to see much of Martinique, we hired a car and went for a drive round. The roads are very good and surprisingly well signposted, and we didn't actually get lost once! We set off along the scenic windy road through the rainforest (a very different one from the track with a palm tree across it in St Lucia!) and stopped at the Botanical gardens. These were a joy to see, with many species well displayed and well looked after. We went up into the aerial walkway to see the views of the rainforest that surrounds the gardens.
Hummingbirds The aerial walkway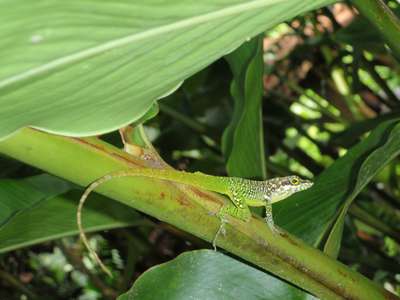 An interesting bloom and a friendly lizard!
We drove to St Pierre, which used to be the capital of Martinique until 1902 when Mount Pelee erupted and wiped out the town. Many of the new buildings are built using walls of the old, and blackened sides are still visible. Part of the theatre survived and has been left as it was. A small museum tells the story and has photos of the town before and after the eruption. We happened upon a small restaurant offering a three-course set menu and decided we would treat ourselves to lunch. It turned out to be a lucky find and the meal was excellent, as was the service. We both forgot we were in the Caribbean and thought we were in France enjoying a leisurely lunch of delicious French cuisine. We later discovered that the restaurant was one that was recommended in the Martinique pilot book. (For our sailing friends' info - it's called 'La Tamaya' and it's at the Cathedral end of the road nearest the sea.)
The remains of the St Pierre theatre.
We also checked out the anchorage as we plan to make an overnight stop here on our way to Dominica. Tomorrow we will check out and then move round to the anchorage at St Anne's which has been recommended as a good swimming anchorage, before setting off on Sunday for Dominica.
---