Ugarit & Castle of Salah Ad-Din

Scott-Free's blog
Steve & Chris
Tue 8 Jun 2010 16:52
Monday 8th June 2010
Our last day in Syria and we needed to make a decision – whether to stay with the boat or to take our places on the trip to Ugarit, the ruins of a Bronze Age city, just 6 miles along the coast from Lattakia. In the end we decided to go. Our part of the harbour was slightly less exposed, the wind and swell had died down a bit in the night, and the forecast was for it to drop further during the day. As the boat had suffered no visible damage during the height of the bad weather whilst we were away, and as we felt this was likely to be the only time we would visit Syria, we left 'Scott-Free' in her mooring and joined the coach trip.
Ugarit was a settlement not far from the coast which thrived between 1450-1200BC and its remains have been important for biblical scholarship. With just a short drive there, we arrived early, before the sun was baking hot. After a wander among the ruins, it was back to the coach to head for the castle of Salah ad-Din, some 20 miles east of Lattakia.
Ugarit.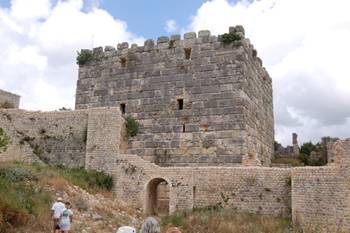 Castle of Salah Ad-Din
Back at the harbour, there was a Rally dinner in the evening, beginning with entertainment provided by a local youth band. The rest of the evening turned out to be a bit of a non-event, as it was taken over by what seemed to be hundreds of Syrian locals who took over all the available tables and seemed to be the only ones who could get served with food. Rally participants who joined the very long lines at the servery were either completely ignored by the people serving, or given one small item whilst all the unknown Syrians were walking away with plates piled high! Eventually we decided they obviously needed dinner more than we did, and took up Sue and Ron's offer of ham sandwiches back at their boat! The rest of the evening was very enjoyable as we made our own entertainment in true yachtie style.
This local youth band played very well.
We discovered later that in contrast to all our other stops, the Syrians were unable to provide hospitality at their own expense, and so the Rally organisers had paid for the dinner out of Rally funds. It seems that the Syrian Yacht Club, our hosts, had then invited a hundred locals to share the free meal, and they in turn must have invited others. It is easy to see how this could happen, in a place where the people are not well off, and after our initial annoyance at waiting for food that never arrived, we just shrugged it off. We all have plenty of food on our boats, and were certainly not going to begrudge a free meal to others.
---