Bena traditional village trip

Scott-Free's blog
Steve & Chris
Tue 29 Aug 2017 21:04
Tuesday 29th August 2017
Together with Bob and Sue, and Bob and Judy from 'Kinabalu', we hired a car and driver to take us on a day trip to see the traditional village of Bena in the Ngada region south of Riung. The Ngada people live on the slopes of a volcano – Gunung Inerie – and the village of Bena is a living monument to their traditions. The most evident symbols of these traditions are pairs of 'ngadhu' and 'bhaga', the former a carved wooden pole supporting a thatched roof, rather like a beach umbrella, and the latter a miniature thatched house. The 'ngadhu' is male and the 'bhaga' is female, and each pair represents a particular family group in the village.
We set off at the unearthly hour of 5 a.m. to drive south across the island towards Bajawa, the Ngada region's main town. We stopped a number of times to look at points of interest along the way, and visited two other villages before arriving for a coffee stop at a hotel high up on the slopes of the volcano, where we enjoyed coffee and pancakes looking out over the most wonderful view.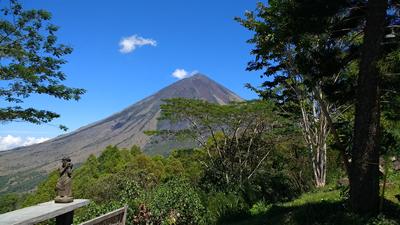 Coffee stop overlooking the volcano - Gurung Inerie.
A short drive further on and we arrived at Bena.
First glimpse of the village through the trees.
The volcano looms over the village. Evidence of animistic beliefs.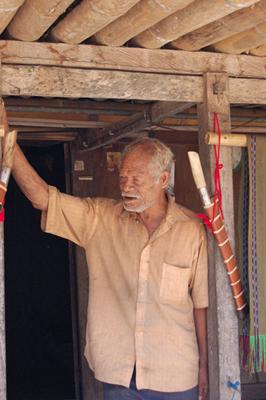 Ngadhu and bhagas in the middle of the village street.
A smile from a villager. More animal bones.
Happy in her work, hand weaving scarves for tourists.
More bhagas. Taking a break.
And more bhagas. A betel-nut smile – red mouth, no teeth.
Interesting way to carry your bag – keeps your
hands free for your sword.
After a late lunch in Bajawa, we stopped on the way home at the hot springs. Now I wasn't sure about this, as it was pretty hot anyway, and the thought of getting into even hotter water did not appeal. However, at these springs there were two sources of water – one hot, one cold – and at their confluence it was possible to choose a spot where the temperature of the water was the most comfortable for you. So in we went, and didn't want to come out again!
The water ran with quite a force and Steve kept me amused by getting washed downstream and battling back up again.
Eventually we managed to drag ourselves back to the car for the homeward journey. Some views from the road:
A rock frog? A lift home from school.
Queuing for petrol. Mount Inerie.
Village fences painted in patriotic colours. Bamboo pole roofing. Simple but effective.
Paddy fields. Cashew nut trees.
---