The winter (or should that be summer) cover is ON!!

Scott-Free's blog
Steve & Chris
Wed 4 Dec 2013 04:49
Wednesday 4th December 2013
Quite possibly for the first time since we left Turkey, we have put the cockpit enclosure (aka winter cover) up to keep out the rain, wind and cold. This weather started yesterday morning and has barely let up for five minutes since! Now we really know we have left the tropics! Today there was a gale warning out for this area with 20mm of rain forecast. Just like being back in the UK!!
Trouble is, the bimini, which the rest of the cover attaches to, is no longer waterproof in a variety of places, so although the sides are keeping us warm and dry, the top is leaking....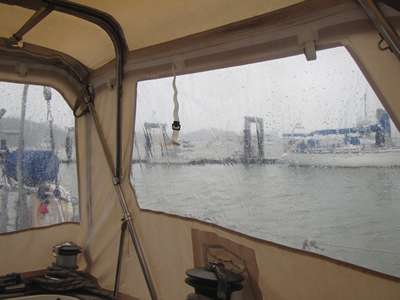 Steve staying (mainly) dry in the cockpit... while it pees with rain outside the winter cover.
I'm not complaining about the cooler temperatures at all, I much prefer them, but we could do with a little less precipitation, please!
The riggers actually came to the boat today and removed a couple of rigging wires in the pouring rain, but mainly the jobs are being slowed down by the rain, which apparently is due to ease off by tomorrow afternoon.
The rain didn't stop the local primary schoolchildren from arriving to perform their version of the Haka at the Opua cruising clubhouse the other evening. It included ballroom dancing and jive as well as the traditional Maori Haka from the boys and Pai ball swinging from the girls. All the kids took part and it was great to watch. Brought a lump to my throat and almost made me wish I was still teaching. I did say almost...
---