Horseshoe Bay, Magnetic Island

Scott-Free's blog
Steve & Chris
Fri 9 Jun 2017 21:17
19:06.699S 146:51.466E
Friday 9th June 2017
Distance run: 134 nm
We threw off the lines and headed out of Abell Point Marina mid-morning on Tuesday, into very little wind. Well at least we would have a chance to check that the prop shaft thrust bearing wasn't leaking! Luckily, after an hour of motoring, the wind began to fill in and stayed, so that we were able to sail all the way to Magnetic Island. The sky was clear and the moon almost full, and we had a lovely night sail, arriving in Horseshoe Bay mid-morning on Wednesday.
With the anchor down in this huge bay, and after lunch and a snooze, we headed ashore with Bob and Sue to take a look around. The shorefront had a few restaurants, a fish and chip shop and a convenience store, and a bus stop with regular buses to the other side of the island. A plaque informed us that the island had been named by Captain James Cook, but gave no idea why he chose the name. Later research showed that it was because his compass became erratic as they neared the island, but no later investigation has been able to unveil any reason why.
The plaque on the foreshore. Steve posing seductively (!) over the Horseshoe Bay sign.
We went for a long walk along the beach, then stopped for sundowners at one of the shorefront restaurants. The sky changed colour as the sun began to set, and we decided to stay and enjoy the rest of the sunset over dinner. Beautiful.
Sunset over the anchorage at Horseshoe Bay.
Next morning we went ashore to walk to the Forts lookout. We first walked over the hill to Radical Bay, then along to Florence Bay, which had for many years been the site of a camping ground for scouts set up by Sir Leslie Wilson. Today it was calm and tranquil and totally undisturbed by anyone. As we rejoined the unmade road towards the fort footpath, we were passed by a couple in a ute who asked if we would like a lift. Ooh, yes please, we said, and piled in. After a very bumpy ride on what was not so much an unmade road but one which had been made and then left to fall into disrepair, with huge potholes fit to snap any unsuspecting axle, we piled out again. We thanked the couple for their kindness, and promptly bumped into Bob and Sue who had started off far too early for us that morning!
Radical Bay Boulders on the hill in Radical Bay
On the walk to Florence Bay we saw many butterflies, most of which were the Blue Tiger butterfly that migrates to the islands.
On the walk up to the Forts lookout, we were lucky to see some koalas, one with a baby, and even luckier that they were actually awake!
A baby koala peeps out from behind his mum. Awake, but only just! Such a tiring life, eating leaves all day.
Not far from the top, we took a short side path to a gun emplacement to see the view, and it was such a lovely spot we decided to enjoy the view over lunch.
Looking across Cleveland Bay towards Cape Cleveland.
At the top there we in fact two lookouts, which were used during WWII and would have given almost an all-round view and early warning of an approaching enemy. Today they gave us breathtaking views to enjoy.
Horseshoe Bay, the boats at anchor hidden by the trees. Cape Cleveland in the distance, and the second lookout to the left.
Can't remember which way we were facing with this one! Through the hills to Townsville on the mainland.
Back at the bottom of the Forts track, we had 10 minutes to wait for a bus to take us back to Horseshoe Bay. Bob and Sue decided to walk, so we gave them a wave as we went by!
Next morning we all took a dinghy ride around to Balding Bay to do some snorkelling. Until the end of May here, one has to be careful of stinging jellyfish, locally known as 'Stingers', and as it is only just into June we thought we should try out our new stinger suits bought in Airlie Beach. Well, mine is really the only stinger suit as it is made of lycra, whereas Steve, Bob and Sue went for 1mm thick wetsuits as they can double for diving in warm water. You will not be surprised to know that there are no photographs of me in my lycra babygrow, nor will there be. Ever.
Sadly there was very little to see, but we enjoyed the swim and nobody was stung, probably because there were no stingers around because it's June. We felt a little overdressed, to be honest, as demonstrated by this photo of Steve, Bob and Sue returning from their snorkel on the opposite side of the bay...
Three people in their full body suits and... ...one chap in his hat! Balding Bay is apparently a nudie beach!!
Bob & Sue lead the way into Balding Bay. Interesting piles of boulders abound on this island.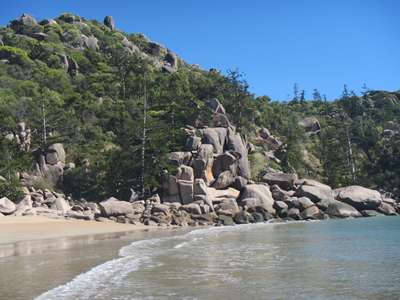 More piles of boulders on the beach in Balding Bay...
It's almost as if someone piled them up here. The centre rock is split down the middle, like Split Apple Rock in NZ.
A giant clam over by the old piles in Horseshoe Bay. The old girl waiting patiently for our return.
Back at the boat we rinsed off the gear, had a bite of lunch and then set off ashore again. Very soon we were on the bus heading towards Picnic Bay on the southern tip of the island. After a wander along the jetty, for which we could see no obvious use, and a walk along the beach, we managed to find the path up to Hawkings Point lookout, from where we could see across to Townsville and back along the east coast of the island to Bremner Point.
A substantial jetty at Picnic Bay – but for what? Townsville on the mainland, from the end of the jetty.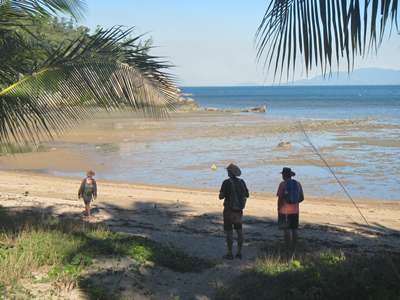 Sue went to look for the footpath, but no joy. On the way up...another split apple rock.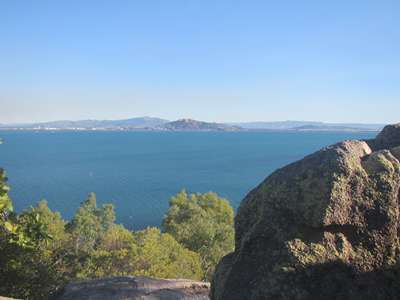 Townsville from near the top. Rocky, Nelly & Geoffrey Bays and Bremner Point from Hawkings Point.
We got back to the bottom of the path just as a bus was due, and sure enough when we were only halfway to the bus stop it appeared. We gave it a wave and ran, but just as we were within spitting distance it drove off. We were cross, and even crosser when we saw it pull in at the next stop and wait there for several minutes before moving on. Oh well, with an hour to wait for the next one, there was nothing for it but to go and find a cup of tea.
Luckily there was a hotel bar/cafe/restaurant open just by the bus terminus, and we forgot about the bus driver as we enjoyed a nice cup of English Breakfast and a slice of cake. Well, three of us did, and Steve enjoyed a schooner of beer. We made the next bus without running, and by the time we arrived back in Horseshoe Bay the sun had gone down. We took Bob and Sue back to Mawari, and as Steve had missed out on the cake, he was ravenous and fancying fish and chips for supper. So we made a quick stop at the boat to offload our bags, and then headed back to the beach.
We just made it to the fish and chip shop in time for last orders, and took our supper over to a picnic bench on the beach. My grilled Spanish mackerel was delicious, grilled to perfection, but I couldn't do the huge portion of chips justice after my cake entree. Steve did a better job with his battered fish, but even he couldn't manage all the chips. Full and heavy enough to sink the dinghy, we made it back to the boat in the dark and had a tidy up ready for our departure the next day to Pioneer Bay on Orpheus Island. We enjoyed Magnetic Island very much - it has definitely been one of our favourite stops up the coast.
---