Miami

Scott-Free's blog
Steve & Chris
Wed 21 Dec 2011 20:44
25:45.511N 80:08.843W
Wednesday 21st December 2011
Distance run: 26 nmiles
With just a short run down to Miami, we left Fort Lauderdale mid-morning on Monday. The inlet was a bit lumpy, but not too bad, and once out we had a good sail on a close and then a beam reach all the way to Miami. We arrived mid-afternoon and went in with the tide, turned to starboard soon after entering the harbour and dropped the anchor behind Fishers Island. Moonshadow Star was already here along with a US catamaran Faring whom Brian and Sandy had made friends with in Newfoundland. Within an hour of arriving we had all been invited to supper with Ken & Heather on the cat and had a very enjoyable evening.
As the wind was due to be unfavourable for a day or two we decided to stay put, and once happy that the anchor was well set, we dropped the rib and made the 2 mile trip to shore at Miami Beach.
Dolphins swimming around the boats in the anchorage. The lights of downtown Miami from the anchorage.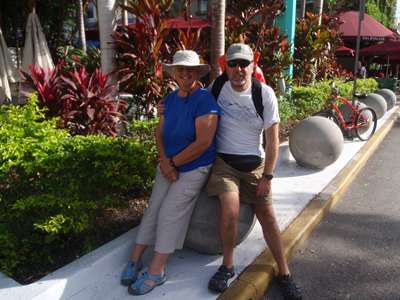 A geko sunning itself near the dinghy dock. Taking the weight off our feet.
A popular shopping area in Miami Beach.
Our main purchase of the day was some fresh sprouts for Christmas dinner, which we aim to have in Key West.
---