St Michael's

Scott-Free's blog
Steve & Chris
Sun 30 Oct 2011 22:20
38:47.17N 76:13.07W
Sunday 30th October 2011
Distance run: 25 nmiles
By last weekend the boat was just about ready to go – but by now it was only a day or two until Anne & Michael from Nimue were due back from the UK, bearing our new credit cards and a couple of other items they had kindly bought to bring back for us. So we decided to stay put until Wednesday and welcome them back with a few drinks over supper on Tuesday evening. That meant a trip to the supermarket in Deale, and Theresa from the office agreed to take us with another customer on Tuesday morning. When we stopped to pick him up, it turned out to be Martin, a single-hander whom we had met and last seen in Washington. So we shopped for five and had a very enjoyable supper on Scott-Free, catching up on everybody's news. It was not a late night as Anne & Mike had had a very long day and we would be leaving the next morning.
On Wednesday morning we had to wait for the tide to rise enough for us to get safely out of the marina and harbour, but eventually at 1300 we slipped the lines and set off for St Michael's across on the Eastern shore of the Chesapeake. It felt good to be on the move again. Although it was sunny, it was really quite cold out on the bay, and so we made first use of the new oilies we bought at the Annapolis Boat show. As there was little wind, we motored across the bay, and were pleasantly surprised by the speed at which we were moving. It seems the combination of work on the boat plus a nice clean, smooth bottom has had a good effect and we made good time to our destination. We stopped off at St Michael's marina to fill up with diesel and then dropped the hook just inside St Michael's bay and settled down for a quiet drink and supper.
Skipper sporting his new Gill's (and silly but warm hat!)
On Thursday we had every intention of going ashore, but somehow never quite made it. It was so nice to be able to chill out, and we planned to be here for a few days anyway, so we decided there was no need to rush and we would drop the dinghy and go ashore tomorrow. Then just as darkness began to fall, the wind picked up and turned to the North, putting us on a lee shore. The boat swung round and pulled up on the chain and we found ourselves in rather shallow water! By now it was too dark to move to another anchorage, so we picked up the anchor and reset it closer to the marked channel in deeper water. We had seen the change of wind direction forecast, but this was stronger than expected, and we spent an uncomfortable evening and night with 25+ knots of wind blowing straight into the anchorage.
On Friday morning the wind dropped a bit and we lowered the dinghy ready to go ashore. Before leaving the boat, however, we decided to check the forecast, only to find that it would pick up again later with even more force and Saturday would be nasty with high winds, rain and possibly even snow! And all from the north, which meant that at best the anchorage would be uncomfortable, and at worst it would be untenable, so we decided we would have to move. We checked out the bay immediately opposite,, which was open to the south and therefore more sheltered, but it was very shallow and with unpredictable tide heights at the moment we didn't want to risk going aground. We decided our safest bet would be to go into one of the marinas which are tucked right inside St Michael's bay. We tied up around lunchtime, making sure we were secure, and went for our planned walk into town.
St Michael's is a very quaint little town with an odd array of shops along its main road. Everywhere there were pumpkins, scarecrows, witches and ghosts in the run-up to Hallowe'en. Just by chance we happened upon a micro-brewery so stepped inside to do some beer tasting. We enjoyed wandering around the town and browsing in its shops, though the only things we bought were some bread and milk from the supermarket!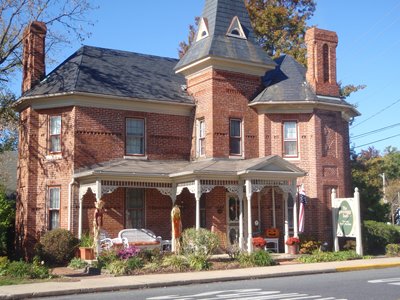 A store decorated for Hallowe'en This house reminded me of one I've seen in a horror film!
Looking up the main street of St Michael's from the microbrewery.
Back at the boat, we battened down the hatches, turned up the heating, and waited for the weather. We didn't have to wait long, and from Friday evening through to Sunday morning the wind howled and the rain poured, though fortunately we escaped the snow which did fall just a few miles west in Washington and north west in Annapolis. Scott-Free kept us warm and dry and we only ventured off her in one of the lulls to use the loos and showers ashore.
Today the weather has been much more settled and at lunchtime, after a stroll around the town, we moved out of the marina and back into the anchorage. This afternoon we have even been sitting in the cockpit in the sunshine reading. Now (about 1800) the sun is just starting to dip and along with it the temperature, so we have moved below and switched on the heating again. Having looked at the weather forecast for the next few days, we have decided to spend another day here while the wind is from the south (the way we are headed, you will not be surprised to hear!) and set off early on Tuesday for Solomons (on the west coast, about 45-50 nautical miles from here) with the help of 10-15 knots of wind from the north (we hope!)
---