A taste of Trini...

Scott-Free's blog
Steve & Chris
Thu 23 Aug 2012 14:04
Thursday 23rd August 2012
...is the name of one of the tours run by Jesse James, a local guide. It turned out to be an excellent introduction to the island.
We boarded the minibus at the marina at 9 a.m. and were returned there at 8 p.m., having spent a most enjoyable day being driven around the island and sampling no less than 65 different local foods.
Some were simple fruits such as starfruit and watermelon, others were slightly less appealing – such as cow heel soup and barbecued pigtail.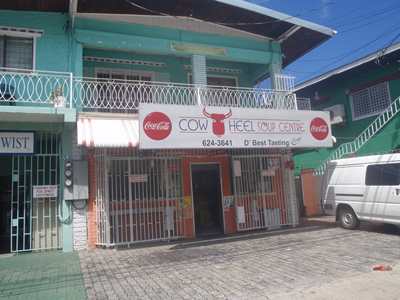 Didn't fancy the sound of this too much. The clear bits are the cow heel – somewhat chewy.
Really? Yes – too chewy for my liking, but Steve thought it ok.
We couldn't pass by the Doubles stall. These typically Trinidadian snacks are almost impossible to eat without dropping any, and this was the only stop of the day when we were not allowed to eat in the minibus! We soon found out why – they are extremely messy. A flatbread is placed on a piece of greaseproof paper, topped with chana – curried chickpeas – and pepper sauce, and another flatbread is placed on top. A totally inadequate paper napkin is handed to you with the Double. No photos of these as they are a two-handed job – and even then half of it ended up on the floor!
At the Doubles stall.
We stopped at a fruit stall and discovered that the big brown bell-shaped objects were the fruits that contain brazil nuts. The stallholder used his machete to knock the end off the 'bell' to reveal the brazil nuts inside. They have to be removed and left to dry before they look like the brazils we are familiar with.
Knocking the end off the 'bell'. The brazil nuts inside.
This is how the nut looks when it first comes out. Apparently men may eat the white part to enhance manhood.
Just when we thought we could eat no more, Jesse announced it was time for lunch! We had driven along the north coast and were now driving down the East coast. After a short stop at one of the many takeaway shops along the road, we arrived at this gorgeous beach, the name of which I have forgotten. We were all sent off for a walk along the beach to work up an appetite while Jesse set out a buffet lunch on the picnic tables. We enjoyed our stroll along the beach and spent some time just taking it all in.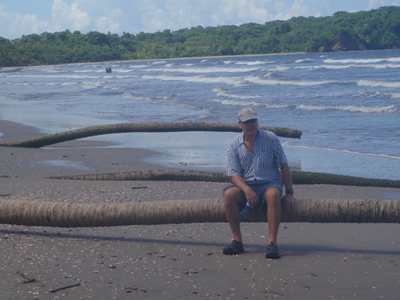 The luxury of time to 'stand (or sit) & stare'... Nature at its most beautiful...
Lunch was a variety of typical Trini dishes, the names of which were strange and now forgotten, but interesting to try. I admit to having passed on the chicken gizzards. Back on the road again after lunch, we stopped at another roadside stall, this time for watermelon. Very refreshing.
Jesse cuts watermelon among the stringbeans. Cleaning the palate ready for the next taste!
We drove for miles along the shore on a road lined with palm trees, all of which looked a little yellow. Apparently there is a disease attacking the palms, not just in Trinidad but throughout the Caribbean. Trinidad has some scientists investigating what might be done to save them. It's an awful thought that they could all die out...
There was still a lot more to see and to taste – Jesse was out to beat his record of 64 tastes in a day, and was keeping his eyes peeled for every opportunity. Passing through a small village he spotted a tree laden with starfruit. In no time he had pulled over and spoken to the lady in whose garden the tree was growing. She provided him with a broom handle with a cut-off cola bottle on the end, and Jesse was soon harvesting the starfruit!
Jesse picking starfruit.
As we left Port of Spain and began the homeward leg towards Chaguaramas, Jesse stopped to buy local ice cream – the last and 65th taste of the day which would break his record. Very disappointingly, however, they were all out of ice cream, so now we had a problem – we had been looking forward to this treat all day, and Jesse needed to find another taste or no new record! He didn't let us down though – at the HiLo at CrewsInn he found locally made coconut ice lollies which, whilst not quite the ice cream we had hoped for, were actually rather tasty.
Throughout the day we learnt a great deal about Trinidad. Jesse is an informative and entertaining guide, and is happy to discuss anything and everything related to his country. It is a wealthy country due to its oil, and certainly it's the most well-developed and industrial country we have visited in the Caribbean. Unfortunately the wealth is not well-distributed, and there are areas where the people are very poor. Crime rates are high, and the island has a reputation for extremely high murder rates, mostly gang and/or drug related. We saw a marked difference in living conditions between some of the areas we drove through, and Jesse did not take us into the poorest areas which are no-go areas for tourists.
Be that as it may, we saw a beautiful island, lush and green, and met many kind and friendly people along the way. The population is made up of 40% East Indian heritage – descendants of the indentured workers brought from the East Indies to replace the now-freed slave workers, 40% African heritage, and 20% mixed heritage. It makes for an interesting variety of people and culture, which is reflected in the many different foods we tasted during the trip.
A great day, and a trip we would recommend to anyone interested in learning about Trinidad, its people and their food.
---