Return to Alligator River

Scott-Free's blog
Steve & Chris
Sun 20 Nov 2011 16:59
35:54.9N 75:57.689W
Sunday 20th November 2011
Distance run: 70 statute miles
We had slipped the lines by 0550 yesterday morning and were waiting for Great Bridge bridge to open at 0600 in order to start on our 70 statute mile trip to the Alligator River. It was still dark and the temperature had dropped overnight from 1 degree when we went to bed to -1.5 degrees. Everything was covered in frost and the decks were treacherously icy. Moving about to slip the lines was precarious indeed. We were both wearing four layers of winter clothing and grateful we had allowed them to take up our limited locker space throughout the long hot days we can barely remember right now!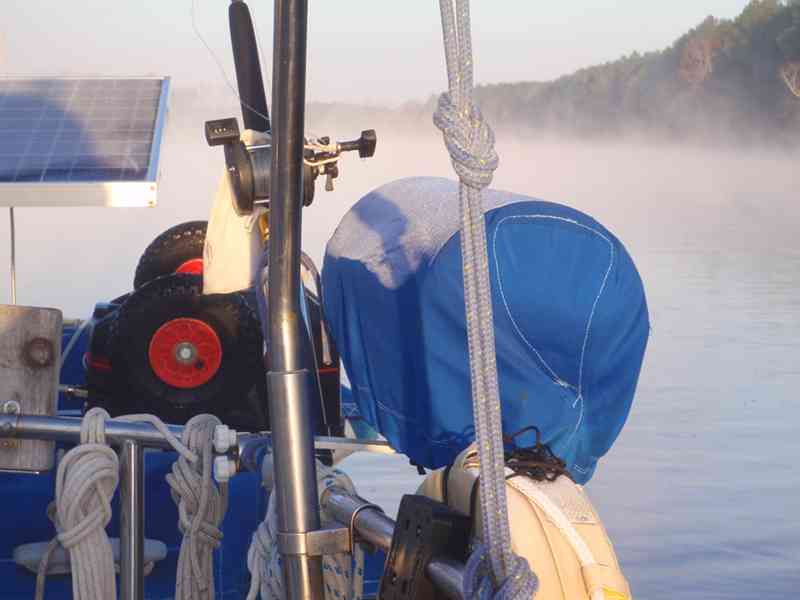 A thick layer of frost on the barbecue and solar panels... and the dinghy, and thick mist over the water.
The lack of daylight wasn't too much of a problem as there were streetlights and bridge lights until after the bridge, but then we were dependent on our night vision. This was fine for a mile or so, but then a very bright light ahead blinded us and appeared to be coming closer. Eventually we were able to make out some very small and dim red and green navigation lights low down and not too far away from us, and we realised it was a tug pushing a a very wide barge towards us. We began to move to the side of the canal, and lit up the bank with the aldis lamp to see how far we could go. Not far, was the conclusion, as there were many obstructions sticking up out of the water, so we moved over as far as we could and held our breath. The barge started to pass within a couple of metres of our port side, and turned to starboard only when the middle of the barge was level with our beam. We're not sure if he hadn't seen us until then or whether the width of the canal allowed him to move over at this point. What we do know is that we were greatly relieved that he did so!
Very soon the sun rose and we had light, but visibility was very poor with mist/fog hanging low over the water. Eventually as the sun rose higher it began to burn off, and by mid-morning we could actually see where we were going.
The mist/fog eventually began to thin as the sun burnt it off.
We made good time to our first possible stop at mile 57, and decided we would carry on to the next anchorage just before the Alligator River Bridge at Mile 82. The ICW is marked in statute miles rather than nautical, and as we were travelling at just over 6 knots, or 7 mph, we felt we had enough time to cross the Albermarle Sound before dark. We arrived at the anchorage around 1630, as the light was just beginning to fade. We were soon safely hanging on the hook, in time to enjoy another beautiful sunset.
The sun setting over the Alligator River.
---