On the move again

Scott-Free's blog
Steve & Chris
Fri 13 Dec 2013 11:02
35:50.189S 174:28.092E
Friday 13th December 2013
Distance run: 74 nmiles
Having stayed in Opua a little longer than planned, we slipped the lines yesterday lunchtime and set off on an overnight sail south to Whangerei. We were delayed because 1) we liked it in Opua and 2) we were having jobs done to the boat.
The two big jobs were having the rigging inspected and then repaired, and having a new windlass fitted. The latter we had planned some time ago as the old one was getting past its prime and we sometimes wondered if it would actually have the strength to lift the anchor. The former we were a little surprised about as the rigging is only about 3 years old, but it seems some of the swaging had not been done well. Anyway, the rigging is something we need to have confidence in, so we stayed an extra week to get it repaired.
We left the Bay of Islands much as we had arrived – with the sails down and the engine on. There wasn't a breath of wind about as we rounded Cape Brett, but the lack of sailing was made up for by the opportunity to motor through the gap between the islands at the Cape and see up close the 'hole in the rock'.
Approaching Cape Brett, on a flat sea. We thought at first that this was the 'hole in the rock'.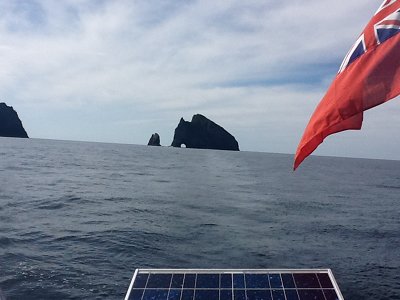 Then we saw this one. And left it behind as we headed south along the east coast.
With no wind to sail by we made better time than expected and arrived at Marsden Cove marina at 0400, having done our first bit of night-time pilotage into a river mouth in a very long time. We found an empty pontoon just inside the entrance where we tied up and retired to bed.
---