Off to Suva

Scott-Free's blog
Steve & Chris
Sun 9 Aug 2015 21:26
Sunday 9th August 2015
We were up early and actually ready when Bear appeared in Baby Beez to take us and our luggage ashore just before 0800 this morning. We were leaving our dinghy up on the davits, and Baby Beez would be tied up at the dinghy dock to wait patiently for our return. The wind was once again howling, and Bear was already drenched from his first run ashore with Pepe and their bags. Fortunately our mooring was not too far from the dinghy dock, so we didn't get too wet, and Bear didn't get any wetter. We put our luggage on the dock next to the ferry and went to wait in the bure to buy our tickets.
The Malolo Cat IV awaiting passengers. Waiting to buy our tickets – half price to Yacht Club members.
Bear returned from tying up Baby Beez, and was very soggy indeed, so Pepe went to get him some dry clothes from their bags, only to find that they had already been loaded on the ferry. Such efficiency was quite surprising as most things here are done on island time. Poor Bear had to sit in the sun to dry out instead.
Tickets bought, we boarded the ferry and were off – only to stop a couple of hundred metres away at the Plantation Resort to pick up more passengers. Eventually we were on our way, and an hour later we arrived at Denarau marina. We reclaimed our bags and made our way to the airport shuttle bus. Twenty minutes later we were at Nadi International Airport, which didn't really match up to our idea of an International airport at all! We made our way to the Domestic terminal to find we could not check our bags in until 12:30, so settled ourselves in the cafe for a bite to eat, breakfast by now seeming a very long time ago and lunch unlikely, given the 14:00 flight time.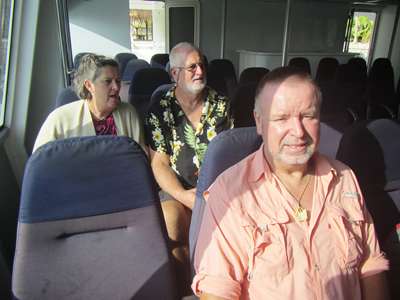 Sitting comfortably on the Malolo Cat ready to go. We passed S-F on her buoy where she would be safe till our return.
All went smoothly at the airport and in no time at all we were on the plane. No sooner had we reached cruising height than we started to descend, but it was fun to be in a plane with propellers again. It was an ATR 42-600 twin turboprop, two seats either side of the aisle in a very modern and pleasant interior. Steve had more legroom than he usually gets on long-haul flights. I was pleased to see we were going on the bigger of the two planes on the tarmac, as the lighter plane requires its passengers to be weighed as well as their luggage – a far more traumatising experience than the flight, in my experience!
A 30-second walk across the tarmac to the plane. I was glad we weren't going on this one!
A clean, modern and spacious (relatively speaking) interior. The many folds in Fiji's topography very visible from this height.
The arrivals building with luggage conveyor belt outside. From this angle the shape of the propellers can be seen.
We landed safely at Nausori Airport, the luggage was soon unpacked and in no time at all we were in a taxi on our way to our apartments in central Suva. The taxi driver was a very friendly Indo-Fijian chap who chatted away about his family history and warned us of the dangers of pickpockets and their modus operandi with tourists, and made the 30-minute drive go very quickly. We checked in at the Capricorn Apartments, and went to our rooms, which I have to admit were not quite what we expected. Tired and rundown are probably kind terms to describe the rooms, and the fridge in ours was not working and leaking water all over the floor. We were offered another room, but it didn't seem any better than the first, and at least we were on the same side of the hotel as Bear & Pepe. So we settled for them sending someone to sort out the fridge, left our bags and went to find something to eat and a supermarket.
The room was tired and in need of some TLC, but reasonably clean, and the fridge stopped leaking and started working.
It had a balcony overlooking a nice garden and clean pool, and we could just see the sea through the trees. It was growing on us fast.
We found both dinner and a supermarket a ten-minute walk down a steep hill in a shopping mall. We could have been in a mall in any modern city in the world, with a fairly well-stocked supermarket on the ground floor and a food hall on the top. There was a range of cuisines available, and between us we had Chinese, Indian and Malaysian. Not typical Fijian food, but it was fast, cheap and plentiful. We stopped off at the supermarket and bought basic supplies and breakfast fare, and some beer. With the cooking facilities in the apartment less than desirable, and eating out cheap, we decided we would not need anything more. Now we just needed to sneak the beer in undetected at Reception, as there seems to be a rule about only consuming alcohol bought at Reception in the apartments.
After a long and busy first day, travelling by dinghy, ferry, bus, plane, taxi and shanks's pony, we hit the hay fairly early, and finding the bed surprisingly comfortable, were soon snoring blissfully.
---